Wireless Multiplexer suits broadband communication networks.
Press Release Summary: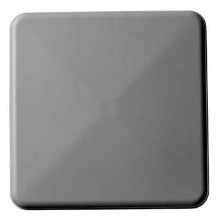 Libra MX meets requirements of point-to-point and point-to-multipoint broadband applications while providing migration path to WiMAX compliant networks. Based on W-OFDM technology, flexible solution includes base stations and subscriber units. It operates in 3.5 GHz frequency band, delivering throughput of 288 Mbps to up to 12,000 users per cell at range of up to 30 km. Carrier-class design enables prioritized triple-play services: video, data, and voice.
---
Original Press Release:

Wi-LAN Launches Libra MX - Industry's most Affordable and Highest Performance Solution - with Guaranteed Path to WiMAX


Offers Carriers, Service Providers and Enterprises WiMAX-Equivalent Performance, Profitable ROI and Risk-Free Roadmap to WiMAX Compliance

CALGARY, Canada and CAMBRIDGE, U.K. - November 15, 2004 - Wi-LAN Inc. (TSX:WIN), a global provider of market-leading broadband wireless communications products and technologies and charter member of the WiMAX Forum(1), announced the launch of Libra MX today at the Wireless Broadband Forum in Cambridge, U.K.

Libra MX is the industry's first WiMAX platform that meets the performance and throughput requirements of today's demanding point-to-point and point-to-multipoint broadband applications while providing a guaranteed, economic and straightforward migration path to WiMAX compliant networks. Based on Wi-LAN's patented W-OFDM technology - the foundation for WiMAX Certified(1) products - Libra MX is a powerful and flexible solution, including both base stations and subscriber units, for a wide variety of broadband wireless applications.

Libra MX is Wi-LAN's fourth-generation OFDM platform and provides a stronger-than-ever business case for carriers, large service providers and enterprises delivering solutions such as: urban Wi-Fi hot zones, cellular backhaul, E1/T1 replacement, enterprise MTU/MDU and VoIP applications.

Libra MX will be widely available within sixty days, with early commercial deployments rolling out in Asia, Europe, and the African continent. In one early deployment, the Egyptian Ministry of Communications and Information Technology is implementing a "Smart Village" pilot project to study WiMAX technology prior to implementing it on a broader scale.

"We selected Wi-LAN's solution based on Wi-LAN's history of providing broadband wireless connectivity solutions worldwide," said Dr. Khaled Ismail, Senior Advisor to the Egyptian Ministry of Communications and Information Technology. "Wi-LAN's level of commitment to technical support and Libra MX's technical specifications, in addition to Wi-LAN's transparent path to WiMAX-compliant systems, helped make our choice very clear."

Customers who deploy Wi-LAN's Libra MX system receive guaranteed protection from Wi-LAN's Continuity Program(TM). Libra MX networks are guaranteed to be interoperable with future WiMAX compliant products, protecting the investment in Libra MX and minimizing future network and revenue disruption. Wi-LAN's Continuity Program guarantees that any Libra MX subscriber unit will operate side by side, in the same network, the same cell and even the same sector with future WiMAX compliant subscriber units, offering Wi-LAN customers a solid migration path to WiMAX compliant systems, which are expected to be available in mid-2005.

"Our customers have told us that, while many vendors are touting claims that their gear is 'pre-WiMAX', what they really want to hear is some straight talk and a solid guarantee that their investment in pre-WiMAX equipment won't be stranded when WiMAX compliant equipment becomes available," said Dr. Sayed-Amr El-Hamamsy, President and CEO of Wi-LAN Inc. "Libra MX is the only available solution that uses the same version of OFDM that is required for WiMAX certification, and it is supported by Wi-LAN's Continuity Program. The Continuity Program guarantees WiMAX performance today and standard compliance and interoperability tomorrow. Libra MX has an extremely modular and flexible base station; when WiMAX compliant equipment is available our customers will literally be able to just plug a WiMAX blade into the base station chassis, without making costly infrastructure changes."

"WiMAX is the real deal - it will provide high performance, security and a path to mobility at an affordable point of entry," said Wai Sing Lee, Communications/IT industry analyst at Frost & Sullivan. "Because Wi-LAN's Libra MX has the same performance characteristics as WiMAX, it enables customers to invest today in the industry's best-performing broadband wireless gear, and with Wi-LAN's Continuity Program they know that they will have a smooth upgrade path to WiMAX as soon as standardized equipment becomes available. Being assured that they can easily and inexpensively upgrade to WiMAX in the future is basically money in the bank for purchasers of Libra MX."

"WiMAX is likely to become a core component of tomorrow's telecommunications network," said Eric Mantion, Senior Analyst with In-Stat/MDR. "With its ability to provide high-speed data and natively support VoIP services - both at home and on the go - it becomes an attractive technology for companies that previously were not involved with last mile connections, due to prohibitive costs. Because WiMAX is an order of magnitude cheaper to deploy and run than other broadband technologies, it has the potential to infiltrate more aspects of our daily life than one would have ever imagined just a few years ago."

The initial release of Libra MX operates in the international licensed 3.5GHz frequency band, delivering unprecedented performance in challenging Non-Line-of-Sight (NLOS) environments, and throughput of 288 Mbps to up to 12,000 users per cell, at a range of up to 30 kilometers.

The carrier-class design of Libra MX delivers carrier-class quality of service (QoS) - enabling prioritized "triple-play" services: video, data, and voice. The re-designed OFDM engine in Libra MX supports 4 times as many voice calls as other products on the market. Libra MX is cPCI card-based and "hot-swappable", meaning customers can easily add sectors to increase capacity or redundancy, and add new functionality - while keeping the network live.

To learn more about Libra MX and Wi-LAN's Continuity Program, go to www.wi-lan.com to download Wi-LAN's latest white paper or to sign up for Wi-Mail or a Webinar, or e-mail us at info@wi-lan.com.

About Wi-LAN Inc.

Wi-LAN is a global provider of broadband wireless communications products and technologies, offering businesses, including telecom service providers, and government enterprises effective, economic and secure wireless high-speed communications solutions. Wi-LAN specializes in high-speed Internet access, data network extension, and wireless data and telephony backhaul, utilizing its high quality products and industry-leading technologies.

Wi-LAN believes its portfolio of patents, including its core W-OFDM patents and 17 patents and patent applications acquired from Ensemble Communications in May 2004, are necessary for the implementation of devices using the IEEE 802.16 WirelessMAN Standard (1) and the ETSI BRAN HiperMAN(1) standard (the WiMAX Forum(1) standards). As well, Wi-LAN's W-OFDM patents are believed to be required for the implementation of devices using the IEEE standards 802.11a and 802.11g (the 2nd generation Wi-Fi Alliance(1) standards), and the ETSI BRAN HiperLAN/2(1) standard. Wi-LAN licenses its patented technology and has executed non-exclusive W-OFDM license agreements with semiconductor and broadband wireless equipment companies.

Wi-LAN is the chair company of the OFDM Forum (ofdm-forum.com) and a charter member of the WiMAX Forum (www.wimaxforum.org). Wi-LAN's common shares trade on The Toronto Stock Exchange under the symbol "WIN." Detailed information on Wi-LAN can be found at www.wi-lan.com.

(1) All trademarks and brands mentioned in this release are the property of their respective owners.

To place an order please contact:

Wi-LAN Inc.Global SalesPh: (403) 273-9133Fax: (403) 273-5100E-mail: info@wi-lan.com

More from Electronic Components & Devices