Wireless Mobile Reader (WMR) System offers serial panel interface for real-time verification.
Press Release Summary: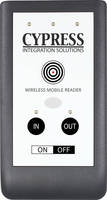 Combining a Farpointe card reader and a wireless Cypress Suprex Reader-Extender, the Handheld Wireless Mobile Reader (WMR) System enables users to perform reads onsite and remotely verify credentials. The unit transmits card data to a Cypress WMR base unit, which is connected to an access control panel from a distance of up to 150 feet indoors and up to 250 feet outdoors. RF expanders and repeaters using the Cypress bridging architecture simplify challenging installations.
---
Original Press Release:
Farpointe Partners with Cypress on Wireless Mobile, Handheld Card Readers
Farpointe Data, the access control industry's trusted global partner for RFID solutions, today announced that handheld mobile reader (WMR) systems using Farpointe reader modules are now available from Cypress Integrated Solutions. The handheld reader combines a Farpointe card reader and a wireless Cypress Suprex Reader-Extender in one portable unit so that the user can perform reads at any place versus readers in only a fixed location. As a result, the WMR can remotely verify credentials, check IDs in trucks and buses, create emergency assembly points/muster stations, verify staff attendance at training sessions and create access control points away from buildings.

"We get 'oos and ahhs' with our handheld wireless mobile readers," emphasizes President Paul Ahern of Cypress Computer Systems. "They are used to reading credentials in applications where it just would not be practical to use a fixed reader. Whenever we offer one to a prospect who uses it for the first time, we always get a big smile."

The handheld unit transmits card data to a Cypress WMR base unit that is connected to an access control panel from a distance of up to 150 feet (45.7 m) indoors and up to 250 feet (76.2 m) outdoors. Challenging installations are simplified with the addition of RF expanders and repeaters using the Cypress bridging architecture. Vehicle-mounted readers for employee and/or visitor logging and tracking are also available.

The WMR system includes a Wiegand or serial panel interface for real-time verification. AES Encryption for secure communications is available upon request. No channel selection is required as the units are preconfigured at the factory. A diagnostic indicator on the central unit determines the operational status. Up to eight units can operate in the same area without factory modifications. Multiple grip colors accent the WMR.

"Truly versatile, the Cypress WMR is a terrific incremental addition to any wireless electronic access control system," adds Scott Lindley, President of Farpointe Data. "We would encourage any access control manufacturer, integrator or user to consider the various enhancements it brings to a security system."

About Cypress Integrated Solutions

Cypress Integrated Solutions is a recognized leader in the design and manufacture of electronic security products and technologies. Cypress specializes in unique and secure communication solutions for physical and logical access control. Since 1983, Cypress has been the industry leader in providing wired and wireless solutions to connect virtually any access control and security manufacturer's hardware. http://cypressintegration.com/

About Farpointe

Since 2003, Farpointe Data has become the global partner of choice for premium RFID solutions. Encompassing a broad range of access control readers and credentials, these solutions include 125-kHz proximity, 13.56-MHz contactless smartcard and 433-MHz long-range technologies. Electronic access control system professionals around the world count on Farpointe's exacting designs, superior manufacturing, competitive prices and excellent performance to enhance their access control systems. www.farpointedata.com
More from Electrical Equipment & Systems