Wireless LAN Recorders offer automatic data downloads.
Press Release Summary: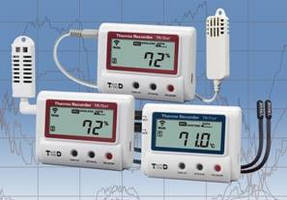 Powered by 2 AA alkaline batteries, TR-71wf/72wf Series Wireless Temperature and Humidity Data Loggers are equipped with auto communication function, which automatically uploads all recorded data from loggers over wireless LAN to cloud service, enabling users to view data on mobile device or PC. Units use external sensors to record on 2 channels in either °C or °F. Temperature logger measures from -40 to 230°F, while combination logger measures from 32–131°F and 10–95% RH.
---
Original Press Release:

CAS DataLoggers Introduces New Wireless LAN Recorders



Automatic Data Downloads Send Your Data to Mobile and PC



CHESTERLAND OH— CAS DataLoggers and popular manufacturer T&D are proud to announce our latest product launch— the new TR-71wf/72wf Series Wireless Temperature and Humidity Data Loggers. These 2-channel environmental monitors have an auto communication function which automatically uploads all recorded data from the loggers over wireless LAN to T&D's free cloud service. Now you can view data anytime, anywhere on your mobile device or PC. Scheduled for release in September, these wireless data loggers are ideal for temperature and humidity management in Hospitals, Museums, and Warehouses, for Server Room Environmental Monitoring, HVAC Performance Testing of Humidity and Heat Control, and many more applications. Try our new data loggers and take a step into the new world of cloud storage...you won't want to go back!



Our new temperature loggers use their external sensors to record on 2 channels in either °C or °F, and we also offer a combination logger which uses a channel for temperature and a second channel recording the percentage of relative humidity. Our temperature logger measures from -40° to 230°F (-40° to 110°C) using the supplied sensor and monitors an even wider range using an optional sensor. The combination logger measures from 32° to 131°F (0° to 55°C) and 10 to 95%RH. We also offer a high-accuracy model of the combo logger with an expanded monitoring range of -22 to 176°F (-30° to 80°C) and 0 to 99%RH.



Wireless LAN communication lets you use your mobile device for logger setup and downloading your data—no cables required. The dataloggers also support USB Communication with PC and feature simple battery-powered operation using 2 AA Alkaline Batteries.



Their LCD displays show current measurements on a fixed or alternating display along with a low-battery warning mark. For extended recording, each logger has a logging capacity of 8,000 Data Sets (One data set consists of readings for all channels in that type of unit.)



These data loggers allow you to set your sample rate and schedule automatic downloads entirely at your convenience. For example you can choose to have the loggers take a recording as often as once a second to once an hour, and have them push that data over wireless as often as once a minute to once a day.



CAS DataLoggers is a leading T&D distributor, providing businesses and organizations with the technology to cut labor costs, save time, and measure their vital parameters at high accuracy. Give us a call today and see how our wireless products can streamline your application!



For more information on our wireless T&D temperature and humidity dataloggers, or to find the ideal solution for your application-specific needs, contact a CAS Data Logger Applications Specialist at (800) 956-4437 or visit our website at www.DataLoggerInc.com.



Contact Information:

CAS DataLoggers, Inc.

12628 Chillicothe Road Chesterland, Ohio 44026

(440) 729-2570

(800) 956-4437

sales@dataloggerinc.com

www.dataloggerinc.com

More from Software