Wireless Keyboard/Mouse offer 10 meter range.
Press Release Summary: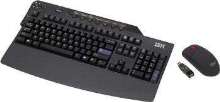 Enhanced Performance Wireless Keyboard and Optical Mouse use 2.4 GHz R/F technology that does not interfere with Bluetooth or wireless LANs. Seven programmable hot keys are set with Lock Desktop, My Documents, Word Processor, Spreadsheet, Calculator, e-mail, and Internet. Software utility allows keys to be reprogrammed. Keyboard includes detachable wrist rest with rubberized coating, 3-way tilt adjustment, and multimedia pod so user can control audio and video files.
---
Original Press Release:

IBM Enhanced Performance Wireless Keyboard and Optical Mouse Let You Work in a Variety of Environments


Overview
The IBM Enhanced Performance Wireless Keyboard and Optical
Mouse use a 2.4 GHz R/F technology that does not interfere with Bluetooth or Wireless LANs. This product offers a 10-meter range. You can use it in large conference rooms together with a projector and in many other environments. Another benefit of this product is its ease of use. Unlike other wireless products
that demand extensive setup, the IBM Enhanced Performance Wireless Keyboard only requires a driver install to begin operating.

This keyboard has the same layout as the IBM Enhanced Performance USB Keyboard, which allows you to complete your computing tasks faster, more efficiently, and comfortably. Seven reprogrammable hot keys open programs, documents, and Web
sites. The keys are set at the factory with Lock Desktop, My Documents, Word Processor, Spreadsheet, Calculator, e-mail, and Internet. To reprogram the hot keys, a software utility is included that lets you print a custom legend for the hot keys.

A multimedia pod is included on the keyboard so you can easily control audio and video files, or launch your favorite media player. Microsoft(TM) Windows(TM) shortcuts are highlighted on the front skirt (front surface) of keys to help you perform tasks more efficiently.

The keyboard also includes a detachable wrist rest with a smooth
rubberized coating and a three-way keyboard tilt adjustment. Also included is an Access IBM key, which gives you easy access to on-system and online information1 from IBM.

This Business Black keyboard is available in many major languages. Also included in this kit is an optical wheel mouse that uses 2.4 GHz R/F technology. To use this keyboard and mouse with your ThinkPadâ when you travel, use the small USB
dongle and the mouse.

Key prerequisites
o IBM or IBM-compatible PC with USB port
o Microsoft Windows 2000 or Windows XP

Planned availability date
December 10, 2004

At a glance
The IBM Enhanced Performance Wireless Keyboard and Optical
Mouse offer comfort, durability, and user productivity enhancements. Features include:
o Wireless 2.4 GHz R/F keyboard and mouse with 10-meter range
o No interference with other R/F technologies like 802.11b/g or
Bluetooth
o Easy to set up and use
o Excellent battery life (uses three AAA batteries for keyboard; two AA batteries for mouse)
o Uses classic full-size keyboard layout
o Optical wheel mouse with smooth rubberized coating
o Internet forward and back keys on left side of keyboard, ideal
for use with Web sites
o Business Black color - A perfect match for ThinkCentre(TM) or ThinkPad systems
o Keyboard includes:
- Seven reprogrammable hotkeys
- Multimedia pod with audio/video controls, including key for opening media player
- Common Windows shortcuts highlighted on front surface of keys
- Three degrees of keyboard tilt adjustment
- Detachable wrist rest with a smooth rubberized coating
- Access IBM button

For technical support:
o Call the IBM Support Center at 800-IBM-SERV (426-7378)
or
o Request technical information via the Personal Computing
Division Web site at http://www.ibm.com/pc/support

More from Chemicals & Gases