Wireless Intercom System enables hands-free communication.
Press Release Summary: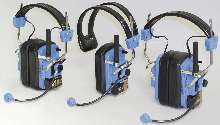 TRIPLEX 3-Headset continuous talking network permits users to talk and listen to each other simultaneously on one of 8 selectable channel pairs. Available in single and double ear headphone styles, system 903 radio phones operate in 900 MHz license-free ISM band for distances up to 1,000 ft. Noise Gate feature blocks out unwanted acoustic noise caused by wind or background noise, and automatic gain control adjusts to changing input level.
---
Original Press Release:
Hands-Free TRIPLEX, Wireless!
R-Columbia's TRIPLEX Wireless Intercom System - A Three Headset Continuous Talking Network, permits users to talk and listen to each other simultaneously. No hands are needed for operation (no push-to-talk buttons), and no base station is required. They operate in the 900 MHz license-free ISM band for distances up to 1,000 ft. R-Columbia's System 903 radio phones are sold in matched pairs and have a built-in transmitter, receiver 9v battery supply, and microprocessor. Available in Single and double ear headphones styles. Each headphone transmits and receives on separate channels allowing users to communicate on an open line. R-Columbia's exclusive "Noise Gate" feature blocks out unwanted acoustic noise caused by wind or background noise. Automatic gain control AGC adjusts to changing input level. A built-in microprocessor allows the selection of eight channel pairs, thereby avoiding frequency conflicts. Users will hear their side tone when speaking, confirming that transmission is taking place. A flexible mini gooseneck boom allows adjustment of the mic for optimal performance. The mic boom rotates and can be operated from either the user's left or right side. Exclusive microphone conditioning circuits (compression and noise gating) are the secret to the outstanding vocal clarity of an R-Columbia's "open line" radio intercom. MARKETS OF INTEREST Markets of interest include Videographers, TV Studios, Football Coaches Theater and Industry. Uses include; voice communication between directors, producers and operators of TV, video and recording equipment, communication between football coaches during practices and games. System comes complete with molded plastic cases for protection during storage. Request catalog 4R for complete details and pricing. For Information Contact: R-Columbia Products Inc. Irv Rozak, President 2008 St. Johns Avenue Highland Park, IL. 60035 Tel: 847-432-7915 Email: rcolumbia@earthlink.net Web site: rcolumbia.com
More from Electrical Equipment & Systems