Wireless DC Clamps save, share measurements directly from field.
Press Release Summary: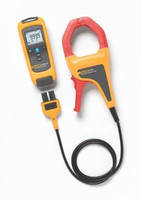 With 64 mm jaw size, a3003 clamps around large, high current conductors and measures up to 2,000 A DC. Fostering accurate measurements without interrupting workflow, a3004 measures 4–20 mA signals without breaking loop and features detachable clamp with extension cable for measurements in tight locations. Both instruments record and store up to 65,000 measurements with logging feature and wirelessly send data to Fluke Connect®-enabled master units and Fluke Connect mobile app.
---
Original Press Release:

Fluke 3000 FC Series Wireless DC Clamps Improve Productivity by Instantly Saving and Sharing Measurements Without Leaving the Field



New high current and 4-20 mA dc current clamps speed troubleshooting through collaboration, regardless of location



EVERETT, Wash. -- Fluke Corp. adds two new dc current clamps to the Fluke Connect(®) system of wireless test tools: the Fluke(®) a3003 FC Wireless DC Current Clamp and the a3004 FC Wireless DC 4-20 mA Current Clamp. Both fully-functional current clamps can wirelessly send measurements to Fluke Connect(®) enabled master units as well as the Fluke Connect(®) mobile app so users can view measurements from multiple devices simultaneously, review equipment history, and share measurements with other team members for faster troubleshooting.



The a3003 FC Wireless DC Current Clamp measures up to 2000 A dc making it ideal for very high dc current measurements typically found in utility and dc machine controller applications. It features a large jaw size (64 mm) for clamping around and measuring on large, high current conductors.



The a3004 FC Wireless DC 4-20 mA Current Clamp measures 4 to 20 mA signals without breaking the loop so process control technicians can make accurate measurements without interrupting the workflow. It features a detachable clamp with extension cable for measurements in tight locations.



Both current clamps can record and store up to 65,000 measurements with the logging feature to isolate intermittent events or record fluctuations without even being there.



Fluke Connect(®) System

The Fluke a3003 and a3004, along with more than 20 other Fluke tools, are part of the Fluke Connect(®) system -- the world's largest portfolio of connected tools. It allows technicians to make better and faster decisions by having access to maintenance records wherever they are working. The Fluke Connect(®) app can be downloaded for free from the Apple App Store and the Google Play Store.



For more information on the Fluke a3003 and a3004 Wireless DC Current Clamps visit: www.fluke.com/dc-clamps



For information on Fluke tools and applications, or to find the location of your nearest distributor, contact Fluke Corporation, P.O. Box 9090, Everett, WA USA 98206, call (800) 44-FLUKE (800-443-5853), fax (425) 446-5116, e-mail fluke-info@fluke.com or visit the Fluke Web site at http://www.fluke.com.



About Fluke

Founded in 1948, Fluke Corporation is the world leader in compact, professional electronic test tools. Fluke customers are technicians, engineers, electricians, and metrologists who install, troubleshoot and manage industrial, electrical and electronic equipment and calibration processes.



Fluke is a registered trademark of Fluke Corporation. The names of actual companies and products mentioned herein may be the trademarks of their respective owners. For more information, visit the Fluke website.



For more information:

Dan Wright

Communications Manager

(425) 446-5638

dan.wright@fluke.com

More from Packaging Products & Equipment