Wireless Datalogger works with signal sensor.
Press Release Summary: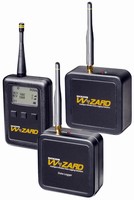 Offered as 900 MHz solution comprised of datalogger, receiver, and repeater, WiZARD SIGNAL SENSOR(TM) identifies strongest possible wireless connection to help users initiate setup and network monitoring/logging. Software manages all loggers from one desktop, and unit shows strength of wireless connection via number of bars available in area. Solution offers user-adjustable sampling rate as well as 6 month battery life and low battery alarm.
---
Original Press Release:

WiZARD Dataloggers, Receiver, Repeater and Signal Sensor



Intelligent Wireless Data Logging Solutions
o Easy setup and network monitoring with WiZARD SIGNAL SENSOR(TM)
o Easy-to-use software manages all loggers from one desktop
o User-adjustable sampling rate
o 6 month battery and low battery alarm
o No obligation 30-day trial offer

Note: The Wizard is available as a 900 MHz (North America) solution. A 2.4 GHz (worldwide) solution will be available in mid-2008.

Signal Sensors
Take the guess work out of setting up your Wizard Loggers. The Signal Sensor allows you to set-up your wireless logging system to have the strongest possible wireless connection. The Signal Sensor shows you the strength of the wireless connection just like a cell phone. It shows you how many "bars" of signal strength are in that area. If there are four "bars" the logger is in a great location and the system will work properly. If there's only one bar you probably want to add a repeater to strengthen the wireless connection. We highly recommend it to anyone purchasing a wireless logging
system.

More from Material Processing