Wireless Data Collection System suits construction industry.
Press Release Summary: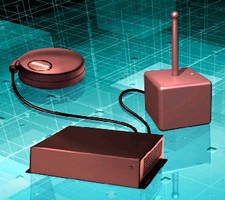 Installed and concealed in lube/fuel truck, low boy truck, mechanics' truck, or supervisor's vehicle, GoPOD provides wireless, hands-free way to capture individual machine locations, plus work time, idle time, and service alerts. Information is collected passively, via drive-by, within range of 300 ft line of site, and transmitted via secure radio link. It is then formatted, downloaded into web report each night, and made available on password-protected website.
---
Original Press Release:

Alternative to GPS Simplifies Construction Management



October 15, 2007. OEM Data Delivery ("OEM DD"), a manufacturer of jobsite data management systems, has introduced a wireless, hands-free way to capture individual machine locations, plus work time, idle time, and service alerts, accurately, and in real time. This allows management to understand what is happening at every jobsite, so that every resource - people, equipment, tools and consumables - can be used to maximum advantage.

The OEM DD GoPOD is a tiny, concealed computer installed in any lube/fuel truck, low boy truck, mechanics' truck or supervisor's vehicle. GoPOD has a GPS antennae, and a radio antennae. Information is collected passively, via drive-by, within a range of 300 ft. line of site, and transmitted via secure radio link. It is then formatted, downloaded into a web report each night, and made available on a password-protected website. Information also easily integrates with virtually all major back office management systems. There is never an interruption of equipment operation.

GoPOD has shown it can markedly improve the productivity of construction, utility management, and phone and cable operations, by eliminating the piecemeal, manual, (and often mistake-prone) tasks necessary to capture critical jobsite information.

The system also facilitates more accurate job accounting, and optimizes equipment maintenance by avoiding over and under-servicing. It is also a powerful and effective tool for preventing the theft, or unauthorized movement, of high-value assets.

GoPOD was engineered specifically for the requirements of construction and utility service companies. It is a wireless and automated solution that is both leaner and more efficient than GPS devices. For more information, contact OEM Data Delivery,
10 Controls Drive | Shelton, CT 06484 | 203.929.8431 www.oemdd.com

More from Automatic ID