Wireless Access Point Wall Bracket enables horizontal mounting.
Press Release Summary: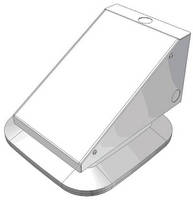 Accommodating hard lid and other environments where ceiling mounts are not possible, Model 1029-00 Wall Mount Bracket ensures wireless access points (APs) are securely placed in recommended horizontal configuration so they can achieve optimal coverage. Product is constructed of white powder-coated steel and works with access points from most manufacturers. Conduit, raceways, and cable can be securely terminated inside bracket, promoting clean appearance.
---
Original Press Release:
Oberon, Inc. Announces New Wall Bracket Mount for Wireless Access Points
Model 1029-00 Places Wireless APs in Recommended Horizontal Configuration State College, PA - Oberon, Inc., a leading manufacturer of wireless and telecom enclosures, has introduced its new Model 1029-00 Wall Mount Bracket. Wireless access point manufacturers often recommend that the access point be mounted in a horizontal orientation to achieve best wireless coverage. While this orientation is easily achieved by mounting the access point on the ceiling, in some hard lid and other environments, ceiling mounts are not possible. In cases where wall mounting is necessary, it can be difficult to achieve the proper horizontal alignment in a secure configuration. Oberon's 1029-00 wireless LAN access point wall mount bracket is designed to mount and secure access points from most manufacturers in areas were wall mounting is required. This aesthetic, white powder-coated steel mounting bracket secures the access point in the preferred horizontal orientation. Conduit, raceways, and cable can be securely terminated inside the bracket to provide for a clean appearance. The access point can be locked in place using the manufacturer's lock feature. For more information on secure, convenient, and aesthetic telecommunications and wireless access point enclosures for suspended ceiling and wall-mounted systems, please call 1-877-867-2312 or see the Enclosure Selection Guide at oberonwireless.com/selection-guide.php. ABOUT OBERON, INC. - Since 1999, Oberon, Inc. has been providing products and services to integrators and end users of wireless LAN "Wi-Fi" network products. Oberon's wireless enclosures and antenna products are used where the RF coverage, infrastructure security, environmental robustness, and aesthetics are paramount in the network design and implementation. Oberon offers ceiling-mounted telecommunications enclosures for Ethernet switches, patch panels, wireless controllers, and other networking and A/V components - ideal for structured cabling and Fiber-to-the-Enclosure (FTTE) deployments. Oberon's products and services have helped thousands of integrators and end-users in the global healthcare, government, transportation and logistics, education, retail, hospitality, and manufacturing achieve reliable indoor network connection mobility. For more information regarding this press release, please contact Sharon Sobieszczyk at 814-308-5017 x708 or sas@oberonwireless.com.
More from Electrical Equipment & Systems