Press Release Summary: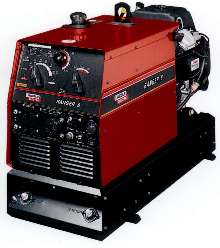 Ranger® 8 is offered with 20.5 hp, twin-cylinder, air-cooled Onan® Performer® gasoline engine that runs at 3,600 rpm. Automatic engine shutdown protects against low oil pressure and prevents engine damage, while automatic engine idler offers fuel economy and noise control. Ranger 8 Onan OHV suits Stick, DC and AC TIG, and general purpose CV wire feed welding. Unit offers 8,000 W continuous 115/230 Vac generator power for tools and lights.
---
Original Press Release:
New Onan® OHV Engine for Lincoln Electric's Ranger® 8 Offers Better Fuel Efficiency and More Horsepower
Cleveland, OH - The popular Ranger® 8 from The Lincoln Electric Company is now available with an Onan® OHV engine which offers even more advantages to operators. The new Onan engine provides a 6% improvement in fuel efficiency over the previous model at full output. In addition, oil changes and oil filters last twice as long. A larger engine with more horsepower provides more reserve power so the most challenging work is well below the engine's capacity. With the updated Onan engine, Lincoln offers three engine choices with the Ranger 8 - Onan, Kohler® and Honda®, while the closest competitive product only offers one. The Ranger 8 is a great choice for contractors, maintenance and repair, owner-operators and other construction site professionals. For many years, this model has been synonymous with performance and reliability. The Ranger 8 Onan OHV is excellent for Stick, DC and AC TIG (optional TIG Module required for AC TIG), as well as general purpose CV wire feed welding. The unit can produce up to 225 amps AC and 210 amps DC, 25V at a 100 percent duty cycle for stick welding, and 200 amps DC, 20V at a 100% duty cycle for CV wire welding. It offers 8,000 watts of continuous 115V/230V AC generator power for tools and lights. The 20.5 HP twin-cylinder, air-cooled Onan Performer® gasoline engine runs at 3,600 RPM. It has a nine gallon fuel capacity to extend hours of operation. Oil changes are required every 100 hours and oil filter changes every 200 hours. An automatic engine shutdown protection feature protects against low oil pressure, preventing major engine damage, while an automatic engine idler offers greater fuel economy and noise control. Manufactured under a quality system certified to ISO 9001 requirements, the Ranger carries Lincoln's 3-year warranty (all engines carry a separate warranty by the manufacturer.) All units have the approval of the Canadian Standards Association. The Lincoln Electric Company, Cleveland, Ohio, is a world leader in the design and manufacture of arc welding products, robotic welding systems, plasma and oxyfuel cutting. For more information on Lincoln Electric's Ranger 8 request E6.90 by contacting Lincoln Electric at 22801 St. Clair Avenue, Cleveland, OH 44117-1199. via phone at 1-888-355-3213 or at the company's web site: www.lincolnelectric.com.
More from Material Handling & Storage