Wire Tracer finds and identifies breakers and fuses.
Press Release Summary: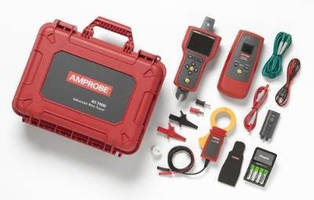 Available in two kits, AT-7000 Advanced Wire Tracer combines receiver and transmitter to locate energized and de-energized wires, breakers, and fuses. Smart Sensor™ array, combined with signal processor, measures changes in detected signal multiple times per second. Displayed on dynamic, color LCD, wire orientation and direction are accurate within 2 in. To eliminate multiple false positive readings, scan and locate feature identifies specific breaker or fuse.
---
Original Press Release:

Amprobe AT-7000 Advanced Wire Tracer Quickly Finds Wires and Identifies Breakers and Fuses



New tool makes tracing wires easier and more accurate than ever before



EVERETT, Wash. -- Amprobe(®) introduces the AT-7000 Advanced Wire Tracer with new features and technologies that simplify wire tracing and breaker identification. The tracer, available in two different kits, combines a receiver and powerful transmitter to locate energized and de-energized wires, breakers, and fuses.



The AT-7000 features the new Smart Sensor(TM) patented sensor array combined with an advanced signal processor that measures small changes in the detected signal multiple times per second for unmatched precision and ease of use for tracing energized wires in walls, floors, and ceilings. Wire orientation and direction, which are displayed on the large, dynamic LCD color display, are accurate within two inches (5 cm).



The shape of the tracer's tip sensor allows tracing in hard to reach areas, corners, and tight spaces. The Breaker Mode's "scan and locate" feature clearly identifies a specific breaker or fuse, eliminating the multiple false positive readings common in older technology tracing tools.



The transmitter features three power modes: "high" for normal circuits, "low" for precision tracing in difficult areas, and "clamp," which provides a boosted 6 kHz signal using the signal clamp (included in kit AT-7030; optional in kit AT-7020) to improve accuracy and performance when there is no access to bare conductors. The transmitter automatically selects the optimal signal frequency (6 kHz or 33 kHz) for fast and accurate tracing on energized and de-energized circuits.



The AT-7000 receiver features non-contact voltage detection of energized wires from 90-600 V and 40-400 Hz with adjustable sensitivity for use in a wide range of applications. The Signal Booster Rechargeable Battery Pack (included in kit AT-7030; optional in kit AT-7020) boosts the transmitted signal for more accurate tracing in difficult environments and automatically recharges when the transmitter is plugged into an energized circuit.



For more information about Amprobe test and measurement products or to download a catalog, visit the Amprobe Web site at www.Amprobe.com, call toll-free 877.AMPROBE (877.267.7623), or e-mail info@Amprobe.com.



Amprobe(®)

Amprobe(®) builds rugged, reliable test and measurement tools that have been trusted by professional electricians and HVAC technicians for over 65 years. Our products range from an extensive line of clamp meters and digital multimeters to industry-specific tools for residential/commercial electricians, HVAC/R technicians, utilities and industrial maintenance professionals. To learn more, visit www.Amprobe.com.



Contact:

Sidnee Schaefer

(425) 446-4674

Sidnee.Schaefer@fluke.com

More from Thermal & Heating Equipment