Wire Termination Applicator contains multiple feed options.
Press Release Summary: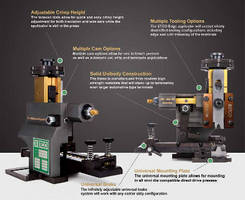 Highly customizable and suitable for rugged conditions, EDGE Applicator comes with interchangeable parts and provides precision for optimal wire crimps. Crimp ears are formed to exacting specifications, with minimal material extrusion on corners and no signs of fracturing. Tested over 2 million times with exact results on each try, applicator minimizes chance of fire hazards and connectivity losses.
---
Original Press Release:

ETCO Incorporated Announces the Launch of EDGE Wire Terminating Applicator Series



EDGE Applicator from ETCO is a step forward in wire termination by American manufacturer that seeks to sell competitively priced applicators to international counterparts.



ETCO Incorporated today announced the launch of its EDGE Applicator wire termination product. The new wire termination applicators were created with a focus competitive pricing and leveraging years of expertise in creating a durable product. The EDGE Applicator is highly customizable and is manufactured with the rugged conditions at wiring harness manufacturers in mind. The EDGE Applicator comes with interchangeable parts and better terminal placement and precision for optimal wire crimps.



The modular nature of the applicator allows for shorter lead times for wiring harness manufacturers. A complaint often heard in the industry is that of long leads times for custom-built applicators. ETCO engineers sought to reduce the lead times of the applicators by making an applicator with modular parts and easy swap outs. ETCO engineers also added precise crimp height features to increase the accuracy of terminal crimps based on operator settings.



ETCO tested the new EDGE applicator over 2 million times during a 6 month period. The applicators never broke down and required very little in the way of maintenance. ETCO engineer's primary concern was creating a product that was easy to implement in a variety of wire harnessing conditions while also keeping an eye on cost.



Tooling costs for the EDGE applicator over the life of usage is a major consideration and ETCO sought to reduce the cost of ownership over the long term. ETCO engineers succeeded in this endeavor by providing durable parts from quality suppliers.



The EDGE applicator will also arrive in a variety of configurations for manufacturer pricing flexibility. ETCO's director of marketing Sam Francois states, "these applicators are created with wiring harness manufacturer needs' squarely as our focus." He continues, "Pricing, quality and one of the best warranties in this industry make the EDGE applicator a top product for wire termination applications."



The EDGE applicator will be available for viewing at Electrical Wire Processing Technology Expo in Milwaukee, Wisconsin on May 14th and 15th at ETCO booth# 1221.



For more information visit http://www.etco.com/edge-applicators or contact an ETCO representative at 800-689-ETCO (3826).

Founded in 1947, ETCO is a privately owned company. The Company manufactures precision stampings and rubber and plastic molded products used principally by major automotive and appliance manufacturers. ETCO also has major customers in a variety of other industries in the USA and over 30 countries throughout the world. ETCO has factories and a research complex in Bradenton, Florida and a factory and engineering center in Warwick, Rhode Island.



For more information on ETCO, visit the Company website online at http://www.etco.com

More from Thermal & Heating Equipment