Wire Stripping Tools work with flexible and solid conductors.
Press Release Summary: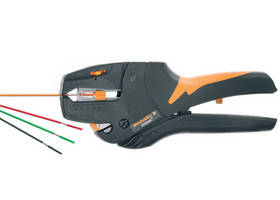 Stripax® tools are designed to strip PVC insulated wire ranging from 28-8 AWG, while Stripax® 16 cuts wire from 10-6 AWG. Measuring 7½ in. long, both products feature detachable grip plates that accommodate users of any hand size. Tools have hinged protective cover on cutting edge and removable clamping jaws that simplify blade replacement. They are designed for cutting/stripping flexible and solid conductors with PVC insulation, multiconductors, and thin ribbon cables.
---
Original Press Release:
NEW and Improved Features in the Fourth Generation Stripax® from Weidmuller
RICHMOND, VA - Weidmuller is pleased to introduce the new fourth generation Stripax® and Stripax® 16 tools for cutting and stripping flexible and solid conductors with PVC insulation, multi-conductors and thin ribbon cables. For over 30 years, the original Stripax® has set global standards as a cutting-edge stripping tool. By adhering to a process of continuous improvement, the new fourth generation Stripax® tools incorporate numerous design changes, ergonomic practical improvements, and innovations suggested by Weidmuller customers. These updated Stripax® tools display the same high quality and reliability as previous versions, with new features for improved handling in industrial processes. The design changes to the new Stripax® tool increase its capability for stripping a variety of PVC insulated wire ranging from 28...8 AWG. Previous models were equipped to handle up to 10 AWG wire. The Stripax® 16 has undergone all of the design changes and innovations as the standard Stripax®, with the exception of the expanded cross section capability, and is still the best choice for processing larger gauge PVC insulated wire from 10...6 AWG. Adjusting the Stripax® tools to precisely strip any PVC wire within the compatible cross section range has been made simpler. Sliding gauges set the insulation depth and a longer strip length of up to 1". A unique new feature called "partial stripping" can be activated to leave the cut piece of insulation on the end of the wire. When preparing a flexible stranded wire, this feature prevents the strands from fanning out, and simplifies the insertion of the conductor into wire end ferrules and other contacts. While implementing new ergonomic improvements, special concern was given to maintaining the size and weight aspects of the Stripax® tools in order to keep fatigue at a minimum. A new detachable grip plate allows for precise and effortless tool operation by all users, regardless of hand size. Even with the addition of the grip plate, the tools remain small and light at 7 ½" long and .38 lbs. Additional practical improvements to the Stripax® tools include a hinged protective cover on the cutting edge to prevent accidental damage to multi-conductors, removable clamping jaws to simplify blade replacement, and an integrated injector that prevents stripped insulation from sticking between the wire stop and the blade. The sleeker, more modern-looking tool also features a new Weidmuller ESG device marker frame, allowing for personal identification. The new fourth generation Stripax® and Stripax® 16 tools are currently available using the same part number as previous models. For more information on these innovative tools, please visit the official Stripax® web site at www.stripax.com or contact your authorized Weidmuller representative. In addition to stripping tools, Weidmuller offers tools for dismantling, cutting, crimping, screwing and testing. All of these comply with the latest relevant standards and offer maximum precision and productivity. Weidmuller is the leading provider of solutions for the transmission of power, data and control signals in industrial environments. The company develops, produces and sells industrial electronics, network infrastructure components and connectivity solutions such as Wireless Solutions, Industrial Ethernet, Relays, Power Supplies, I/O modules, printed circuit board connectors, terminal blocks and complete DIN Rail assemblies. The Weidmuller group has a strong international focus with manufacturing and sales locations in over 70 countries.
More from Packaging Products & Equipment