Wire Feeders run hard/cored wires at speeds of 50-780 ipm.
Press Release Summary: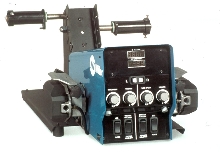 70 Series semi-automatic, constant-speed welding wire feeders are offered in bench top dual wire and Swingarc(TM) boom-mounted versions. Bench dual wire models feature spool capacity of 60 lbs (per side), independent controls, and separate meters. Swingarc boom-mounted 70 Series feeders' controls are placed at 12 or 16 ft boom's base, and drive assembly is at end of 360 deg rotating boom. Boom moves 60 deg up and down for 24 or 32 ft dia work area.
---
Original Press Release:

Miller Introduces Dual Wire, Swingarc Versions Of Its New 70 Series Industrial Wire Feeder


* Dual wire permits immediate change-over
* Swingarc adds flexibility within the weld cell

APPLETON, Wis., March 4, 2002 - To improve productivity and increase flexibility in wire welding applications, Miller Electric Mfg. Co. has introduced bench top dual wire and Swingarc(TM) boom-mounted versions of its 70 Series wire feeder. Miller designed the 70 Series semi-automatic, constant-speed wire feeders for use in heavy manufacturing, metal fabrication and high-volume welding applications.

The bench dual wire models increase efficiency in applications that alternately require two different wires. Each side features a spool capacity of 60 lb., independent controls and separate meters (optional). This allows an operator to switch instantly between guns (only one gun can be used at a time) and eliminates the changeover delays that occur with single wire feeders.

Popular dual wire applications include: a steel hard wire and flux core wire, using .045 on one side and 5/64 in. on the other, an all-position wire and a flat/horizontal wire or various solid wires and cored wires. Dual wire 70 Series feeders are available in bench-top or Swingarc models.

Swing for Flexibility

Swingarc boom-mounted 70 Series feeders bring an extra dimension of flexibility, efficiency and operator comfort to high-production wire welding stations. The Swingarc places the feeder controls at the base of a 12- or 16-ft. boom and the drive assembly at the end of the boom. The boom rotates 360 degrees and moves 60 degrees up and down to create a 24- or 32-ft. diameter work area. A counterbalance design holds the boom in place once the operator sets its position.

"A Swingarc can eliminate the need to move the power source or feeder when working on large weldments or in difficult-to-reach areas. This saves time and money," says Jeff Hietpas, product manager, Miller Electric Mfg. Co. "It also improves operator comfort because the boom mounting reduces perceived gun weight. In addition, the Swingarc removes unwanted cable clutter from the floor. This results in cleaner work cells and less service repair for welding cables."

70 Series Details

All 70 Series feeders run hard and cored wires from .023 to 1/8 in. diameter at a speed range of 50-780 IPM. They incorporate Miller's unique Posifeed(TM) four-drive-roll system that features all-gear-driven roll carriers that grip wire more positively than a single-driven wheel/idler wheel arrangement.

Other common features of these easy-to-use feeders include dual tension control, trigger hold, a toolless rotatable drive and automatic run-in control. More advanced models enhances the machine's capabilities with digital meters, or the full feature model with the ability to store four customized weld programs, dual schedule control, adjustable weld sequence control and weld process range control. Upgrade kits are available to convert standard models to digital or deluxe models.

All 70 Series feeders are compatible with CV welding power sources with a 14-pin receptacle and a 24 VAC supply, such as Miller's Deltaweld®, Dimension(TM), XMT® and Invision(TM).

The 70 Series feeders are covered by Miller's True Blue® 3-year parts and labor factory warranty. To purchase them on-line or to download a product spec sheet, visit Miller's website at www.MillerWelds.com. Only Miller combines the convenience of on-line shopping with the expertise of a local distributor for sales and service.For more information or the Miller distributor nearest you, call 1-800-4-A-MILLER (800-426-4553), fax 877-327-8132, visit the website or write to Miller Electric Mfg. Co., P.O. Box 100, Lithonia, GA 30058.

Headquartered in Appleton, Wis., Miller is a leading worldwide manufacturer of arc welding equipment and related systems for metalworking, construction, maintenance and other applications. Miller Electric Mfg. Co. is a wholly-owned subsidiary of Illinois Tool Works Inc. (ITW), Glenview, Ill. ITW is a diversified multinational manufacturer of highly-engineered components, assemblies and systems.

More from Optics & Photonics