Wire EDM Machines maximize part straightness.
Press Release Summary: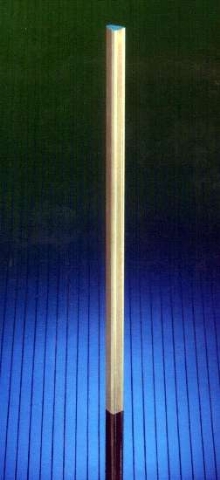 Series SP uses Wire WIZARD(TM) control system powered by Windows® CE, which prompts user through process of programming, set-up, and run. PowerWIZARD(TM) adaptive control system controls discharge current and maintains optimum spark gap, while CornerWIZARD(TM) geometric control system provides tight control of small internal corner radii. With minimal input from operator, software will output total machining time, consumable costs, and total part cost if hourly rate is applied.
---
Original Press Release:

Makino Wizard Technology Creates Straighter Parts Faster


State-of-the-Art Cutting and Control Technology is Key

AUBURN HILLS, MI-May, 2005-Makino's SP-Series wire EDM machines use "wizardry" to provide advanced features for numerous market segments in the general wire EDM arena. This includes general part manufacturing, aerospace and medical applications looking to reduce costs and improve operations.

This is accomplished through the advanced "WIZARD" control technology of Makino for improving part straightness, corner accuracy and adaptive power control. The platform is the Wire WIZARD(TM) control system powered by Windows® CE, which provides optimum reliability in an easy-to-use, operator-friendly control system.

The software has three main graphical components designed for maximum throughput- programming, set-up and run-which provide the basic needs for any application. It uses this logical approach by actually prompting the operator through the process. This simplistic operation makes the learning curve of the software negligible, providing an easy transition for any operator.

Key onboard technologies include Makino's new PowerWIZARD(TM) adaptive control system and the CornerWIZARD(TM) geometric control system. These control features are designed to improve part accuracy and machining performance.

PowerWIZARD increases machining speed while improving overall surface finish by controlling the discharge current and maintaining the optimum spark gap. CornerWIZARD is a unique control feature that provides outstanding shape accuracy, providing tighter control of small internal corner radii.

Belly WIZARD(TM)
The newest Makino technology is Belly WIZARD(TM), designed to produce the straightest parts possible. BellyWIZARD improves straightness in the initial cut, reducing the skim cuts required to produce a straighter part while reducing overall cycle time.

One Makino customer solution that clearly illustrates the capability of BellyWIZARD is the three-pass machining of a 7-inch (178 mm) tall part in CPM-M4 material. Machined on the Makino SP43 wire EDM, the customer used one rough and two skim passes to burn the part, while maintaining high precision, high accuracy and excellent straightness.

Fast and powerful, BellyWizard allowed the company to reduce cycle times to one hour and seven minutes while using only 1,010 yards (923.54 m) and 0.85 pounds (0.3856 kg) of 0.010-inch (0.254 mm) brass wire.

Makino's WireWIZARD Technology
Makino's WireWIZARD also offers an estimating feature that will actually calculate part-manufacturing cost. With minimal input from the operator, the control software will output total machining time, consumable costs and even total part cost if an hourly shop rate is applied. This allows customers to monitor, control and drive out operational costs when utilizing the SP43 wire EDM.

The state-of-the-art WireWIZARD cutting technology provides superior performance and surface integrity without sacrificing speed, allowing for up to 30 percent faster processing speeds over other EDM technologies. The machine features improve overall machine throughput and precision.

Lower wire feedrates dramatically reduce wire consumption without affecting machine accuracy or performance, a huge improvement over so-called "economy" modes of operation.

No one will do more to lower machining costs than Makino, a global provider of advanced machining technology and application support for the metalcutting and die/mold industries. Makino manufacturing and service centers are located in the United States, Japan, Germany, Singapore, Italy, France, Korea, Taiwan, Turkey, China, Mexico, Brazil, and India, and are supported by a worldwide distributor network. For more information call 1.800.552.3288, or visit Makino on the Web at www.makino.com.

More from Electrical Equipment & Systems