Wire EDM Machine speeds cutting time.
Press Release Summary: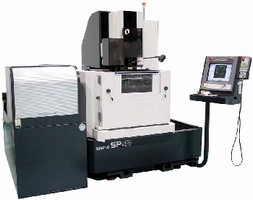 Equipped with WireWIZARD(TM) CNC and EZ-Cut(TM) advanced machining technology, Model SP43 handles workpieces up to 1,760 lb and uses wires from 0.004-0.012 in. dia. With HEAT High Energy Applied Technology, machine minimizes cutting times while holding tolerances of straightness to 0.0005 in. with 1 pass and 0.0002 in. with 2 passes. Results are achieved in poor flushing conditions, non-sealed nozzle applications, on uneven surface thicknesses, and on parts up to 6 in. tall.
---
Original Press Release:
Makino SP43 Featuring HEAT on Display at WESTEC
SP43 with HEAT cuts 18 to 44 percent faster AUBURN HILLS, MI -- February 2007 - Makino will feature an SP43 wire EDM machine with HEAT (High Energy Applied Technology) at WESTEC in booth 3416 March 26-29, 2007 in Los Angeles, California. HEAT is a new advancement from Makino in Wire EDM Technology that dramatically reduces cutting times in poor flushing conditions while maintaining exceptional part straightness. HEAT smokes the Wire EDM competition, cutting parts 18 to 44 percent faster while holding tolerances of straightness to 0.0005 inch (T.I.R.) with one pass and 0.0002 inch (T.I.R.) with two passes. These results are being achieved in real world applications, including poor flushing conditions, non-sealed nozzle applications, uneven surface thickness and through holes, as well as parts up to six inches tall. To learn more about heat, visit www.Makino.com/HEAT . SP43 Makino's SP43 wire EDM machine provides advanced features for numerous market segments in the general wire EDM arena, including general part manufacturing, aerospace and medical applications looking to drive out operational costs. The extremely fast part-processing speed of the SP43 provides the advantages of production wire-cutting machines capable of holding extremely tight tolerances. The SP43 features Makino's state-of-the-art wire EDM technologies, including WireWIZARD(TM) CNC control system and new EZ-Cut(TM) advanced machining technology. The large 15-inch touch screen user interface and its advanced functionality make the WireWIZARD system not only powerful but exceptionally simple to use. Makino's WireWIZARD Technology WireWIZARD (MGW-S) powered by Windows® CE provides optimum reliability in an easy-to-use, operator friendly control system. The software has three main graphical components designed for maximum throughput-programming, set-up and run-which provide the basic needs for any application. It uses this logical approach by actually prompting the operator through the process. This simplistic operation makes the learning curve of the software negligible, providing an easy transition for any operator. Makino's state-of-the-art WireWIZARD cutting technology provides superior performance and surface integrity without sacrificing speed, allowing for up to 30 percent faster processing speeds over other EDM technologies. The machine features improve overall machine throughput and precision. Lower Consumable and Maintenance Costs Lower wire feedrates dramatically reduce wire consumption without effecting machine accuracy or performance, a huge improvement over so-called "economy" modes of operation. Makino's patented automatic wire threading (AWT) and unique V-type wire guide reduce the overall cost of ownership by dramatically reducing maintenance downtime. As an example, the wire guides can be cleaned without disassembly or the added time required to realign the wire vertical to machine travel. A solid workhorse, with the ability to handle a large workpieces of 1,760 pounds (800 kg), and a massive machine structure that weighs 8,500 pounds (3,856 kg). This machine offers the ability to use wire diameters from 0.004 to 0.012 inches. Machine travels of 17.7 x 11.8 x 12.6 inches with a large workpiece capacity make the SP43 ideal for a variety of applications. Makino is a global provider of advanced machining technology and application support, where new thinking takes shape for the metalcutting and die/mold industries. Makino manufacturing and service centers are located in the United States, Japan, Germany, Singapore, Italy, France, Korea, Taiwan, Turkey, China, Mexico, Brazil and India, and are supported by a worldwide distributor network. For more information call 1.800.552.3288, or visit www.makino.com .
More from Mechanical Power Transmission