Wire EDM Machine handles micro-miniature machining jobs.
Press Release Summary: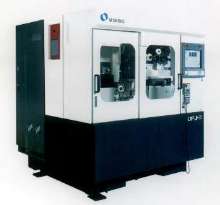 Horizontal Model UPJ-2 can automatically thread 0.00078 in. wire through 0.0027 in. diameter start hole with 0.0059 in. pitch. Machine is enclosed within Thermal Guard(TM) temperature system, which helps control temperature inside covers to within 1°F. X, Y, and Z-axis travels are 7.87 x 7.87 x 2.36 in., with U and V-axis traveling ±0.394 in. Machine includes Windows CE® OS, touch-panel 15 in. LCD, and Ethernet interface to support utilization of network.
---
Original Press Release:

Makino Introduces UPJ-2 Horizontal Wire EDM Machine


Revolutionary, Ultra-Precision, Fine Wire Machine

MASON, OH-July, 2004-The ultra-high accuracy UPJ-2 from Makino is the world's only horizontal wire EDM machine and features standard capabilities for automatically threading and machining with wire as small as 0.00078 inches (0.02 mm) in diameter. The UPJ-2 meets the needs of the micro-miniature machining markets that require micrometer- and nanometer-level machining technologies.

The Makino horizontal wire EDM machine can handle such jobs as gears for micro-miniature molds, fiber optics, inkjet nozzles and medical instruments. It is ideally suited for the medical,
electronics and aerospace markets, as a result of trends toward smaller and lighter parts with higher functionality in these areas.

The UPJ-2 will be the highlight of Makino's micromachining exhibit in the EDM Pavilion of the 2004 International Manufacturing Technology Show (IMTS) at McCormick Place in Chicago, Illinois, September 8 through 15. This will be on display at Booth #4110 in Hall D. Visitors may also get additional information at the main Makino Booth #8400 in Hall A of the South Building.

Makino Advantages
Thanks to its unique mechanical construction, the UPJ-2 can automatically thread a 0.00078-inch (0.02mm) wire through a 0.0027-inch (0.07 mm) diameter start hole with a 0.0059-inch (0.15 mm) pitch offering high reliability and performance. The machines dielectric fluid operation helps to minimize spark gap and enhance quality finish, while the unique core and slug removal unit improves particulate flushing and enhances uptime.

The entire machine is enclosed within a Makino Thermal Guard(TM) unique temperature system, which helps control the temperature inside the covers to within 1 degree F (0.5 degree C). This tight temperature control helps the UPJ-2 deliver high-accuracy machining by maintaining a stable machine attitude even during long hours of operation.

UPJ-2 Features
The X-, Y-, and Z-axis travel are 7.87 x 7.87 x 2.36 inches (200 x 200 x 60 mm), with the U- and V-axis traveling +/- 0.394 inches (+/-10 mm). A 50-nanometer (0.00005mm) scale feedback
system is standard in the X, Y, U and V axes for micromachining and enhanced positioning accuracy.

The wire diameter range is 0.00078 inches (0.02 mm) to 0.008 inches (0.2032 mm), with a minimum start-hole diameter is 0.0027 inches (0.069 mm). The maximum suspended weight of
the UPJ-2 horizontal wire EDM is 44 pounds (19.96 g), which includes the toolholder. The maximum taper angle is +/- 3 degrees for a 0.004 inch (0.1016 mm) wire at 1.181 inches (29.8
mm) thickness.

The UPJ-2 uses a V-type wire guide rather than a round guide to enhance threading accuracy. The machine features a Windows CE® operating system and a touch panel 15-inch liquid crystal display, with an Ethernet interface also a standard feature to support utilization of a network.

The UPJ-2 can operate for long hours of unattended machining time with an optional automatic work changer and an optional core removal unit. The core removal unit, facilitated by the
horizontal wire travel system adopted on the UPJ-2, substantially improves machine uptime by automatically cutting out the cores following machining.

Makino is a global provider of advanced machining technology and application support for the metalcutting and die/mold industries, dedicated to driving out more costs from your
manufacturing operation than any other competitive machine tool manufacturer. Makino manufacturing and service centers are located in the United States, Japan, Germany, Singapore,
Italy, France, Korea, Taiwan, Turkey, China, Mexico, Brazil and India, and are supported by a worldwide distributor network. For more information call 1.800.552.3288, or visit Makino on the
Web at www.makino.com.

More from Laboratory and Research Supplies and Equipment