Wire Decking Increases Fire Prevention and Can Lower Insurance Rates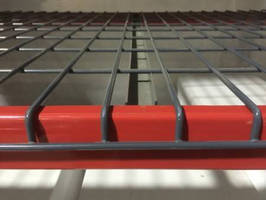 With an increased emphasis on cleanliness and fire resistance, wire decking has emerged as the ultimate choice in all of your storing needs.



In recent years, many municipalities are adopting and enforcing strict fire prevention codes in warehouses. Meaning, if you are caught off guard without suitable wire decking during an inspection, it can lead to closed facilities or fines until you have met code.



However, wire decking offers more than just fire resistance: wire decking is by far the overall safest option available. Wood decking is often not strong enough to support heavy loads, but wire decking can support pallet loads up to 2,500 lbs, based on evenly distributed loads. Plus, the wire grid provides a sturdy surface that will completely support misplaced loads that fall away, potentially causing serious injuries to warehouse staff.



Wire decking is also important on cross aisle pallet racks with the wire acting as a safety net to help prevent boxes from falling into aisles and walkways. These safety features, alone, make wire decks a great investment.



After making the switch to the safer option, you might even see a reduction in insurance rates! The all- steel, open design of the wire mesh allows for more efficient operation of the overhead sprinklers. Insurance companies often require this in new or upgraded installations of warehouses, so you can effectively lower your rates with wire decking.



Some other advantages of wire over wood decking:





Flexibility to store full pallet loads or individual boxes of varying sizes and capacities.




Easy and fast drop-in installation
on most shelving and rack systems.



Better illumination and visibility of stored product, allowing easier inventory
inspection



Low maintenance as dust and dirt is not able to settle on wire mesh, requiring less cleaning.



Warehouse Rack Shelf, LLC has been providing new and used warehouse racking, shelving and equipment since 1983. They specialize in storage racks and storage containers.



More from Sensors, Monitors & Transducers