Wire/Board Connectors facilitate solid state lighting designs.
Press Release Summary: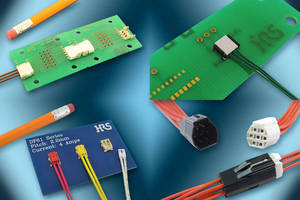 DF57H Series has swing lock design and can deliver 2.5 A in 1.2 mm pitch, 1.4 mm mated-height wire-to-board connector. With 2.0 mm pitch and swing lock design, DF59 Series can work as wire- or board-to-board connector. Vertically mated DF61 Series, with 2.2 mm pitch and 2.38 mm mated height, is rated to 5 A and 350 V AC/DC and also has swing lock design. Wire-to-wire DF62 Series has multi-row pin layout, smooth outside contour, and 2-point crimp contact design.
---
Original Press Release:

New Hirose Connectors Provide a Suite of Solutions for Solid State Lighting Designs



High cable pull force, high reliability, and small sizes allow for reliable SSL connections…



SIMI VALLEY, CA — Hirose Electric, a leader in the development of innovative connector solutions, has developed several new wire-to-board and board-to-board connectors to complete your solid state lighting fixture applications. The DF Series connectors (DF57H, DF59, DF61 and DF62) offer multiple space saving variations, high cable pull forces, and produce secure, reliable connections.  This variety of connectors provides a solution for designers of lighting fixtures, SSL arrays, and LED bulbs.



The DF57H Series is a wire to board connector that is capable of delivering 2.5 amps of current in a small but reliable 1.2 mm pitch, 1.4 mm mated height connector.  The "Swing Lock" is achieved by using a positive and friction lock, and they produce a clear tactile click to ensure the mating process has been completed.  The DF57H also features a high contact lance strength and a low profile that makes it ideal for connecting LED drivers to lighting fixtures.



The DF59 Series is a multi-functional connector and can be configured to either work as a wire to board or board to board connector system. This series is a 2.0 mm pitch connector that utilizes a "Swing Lock" design that provides a positive and friction lock.  One common socket can mate to three different header styles which creates versatility for any application. The DF59 Series connectors are well suited for linear SSL applications.



The DF61 Series connector is a 2.2 mm pitch with a low mated height of 2.38 mm.  It boasts a high current capacity of 5 amps and a high voltage rating of 350 V AC/DC.  These features allow it to function continuously and make them a smart choice for LED light bulbs and LED tube fixtures.  This vertically mated "Swing Lock" connector has a header that is molded as one solid piece to help prevent solder wicking.



The DF62 Series is a slim wire to wire connector that was designed with small or confined spaces in mind.  Features include a multi row pin layout, smooth outside contour, no exposed metal on the outside of the housing, this series is an ideal choice for LED applications.  The two-point crimp contact design delivers a reliable connection that is resistant to shock and vibration. The small size and high durability of the DF62 Series connector makes it ideal for narrow or confined cabling needs.



"Drawing from Hirose's reputation of connector excellence, the new DF57H, DF59, DF61 and DF62 connectors have been created to solve design and performance issues with LED and solid state lighting needs" said Rick van Weezel, Vice President of Sales & Marketing at Hirose Electric USA. "



For additional information about the DF Series connectors, please visit: www.hirose.com/US



ABOUT HIROSE ELECTRIC

Hirose Electric Co., Ltd. is a leading global supplier of innovative interconnects, with sales of approximately US $1 billion to customers worldwide.  Hirose employs advanced engineering services, superior customer support and worldwide manufacturing capabilities to provide value-based connector solutions for various industries including: telecommunication, consumer electronics, computer and automotive. More information can be found on Hirose Electric's corporate website at www.hirose.com/US

More from Material Processing