Temperature / Humidity Monitors
Winding Hotspot Temperature Monitor is smart grid ready.
Press Release Summary: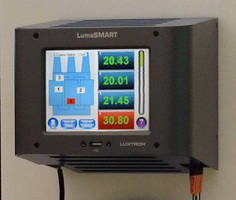 Luxtron LumaSMART Winding Hotspot temperature monitor for transformers integrates touchscreen display with trending tools and alarm configurability. It features 1 GB of storage for historical data, and connectivity options include RS232, RS485, TCP/IP, and USB along with numerous protocols, simplifying integration with SCADA or DCS packages in substations. Temperature monitor can be expanded to configurations allowing up to 16 measurement points and 16 programmable relays.
---
Original Press Release:

LumaSense Technologies Announces the Luxtron LumaSmart, the First Smart Grid Ready Winding Hotspot Temperature Monitor



LumaSense Technologies, a global leader of infrared temperature and gas measurement solutions, today announced the release of the Luxtron LumaSMART Winding Hotspot temperature monitor.

Transformer Winding Hot Spot Temperature is a critical parameter required to manage the loading, life and reliability of transformers. Common devices, such as Winding Temperature Indicators (WTIs) or Electronic Temperature Monitor's (ETMs), try to simulate or calculate this temperature. The only true measurement of this parameter is attained using fiber optics sensors fitted directly into the transformer's windings. LumaSense's Luxtron brand has long been the industry leader in Rugged fiber optic design. LumaSense Technologies has provided fiber optic temperature solutions to the Energy market globally for over 25 years through its Luxtron brand winding hotspot temperature sensors and monitors. Luxtron products have successfully been installed in over 3,000 transformers globally and are considered the world leader in fiber optic technology.

The LumaSMART builds on the ruggedness, reliability and stability pioneered by its predecessor products such as the WTS-22 and ThermAsset®2. The LumaSMART is the industry's first Smart Grid ready winding temperature hotspot monitor. For the operator, the touch screen display on the LumaSMART offers users easy-to-use trending tools, graphics and alarm configurability necessary to customize the LumaSMART product to exactly fit their needs. In addition, enlarged On-board data storage allows 1 GB of historical data for analysis by the user. The LumaSMART allows a range of connectivity options, including RS232, RS485, TCP/IP and USB along with numerous protocols, significantly simplifying integration with any SCADA or DCS package in substations. For the transformer manufacturer, it is compact, easy to install and configure. The LumaSMART is expandable to configurations allowing up to 16 measurement points and 16 programmable relays.

"The Winding Hot Spot Temperature is the single most critical parameter to monitor on your transformer. Using Luxtron's patented Fluoroptic® Technology, LumaSMART offers the most flexible platform in the market to perform direct, real-time winding hot spot measurements," comments Brett Sargent, Global Vice President of Sales for LumaSense Technologies. "The winding hot spot directly relates to transformer life, loading capacity of a transformer and predictive maintenance practices for the transformer. Customers need the best technology to accurately measure this critical parameter and the LumaSMART offers this. Beyond offering better accuracy, the LumaSMART's communication and configuration features allow users to easily integrate this critical information into their automated data and control systems."

LumaSense Technologies will introduce the Luxtron LumaSMART system at Finepoints' Circuit Breaker Test and Maintenance Conference in Atlanta, GA October 5-9, 2009.

About LumaSense Technologies(TM)

LumaSense Technologies is a global leader in providing temperature and gas sensing solutions to industrial, energy, medical and clean technology markets. We design and manufacture sensors for end-user and original equipment manufacturers (OEMs) applications. LumaSense has proven expertise in developing state of the art infrared and fiber optic temperature sensors, radiometric thermal imagers, and gas analyzers. A common theme in our sensors is the use of infrared (IR) light to provide robust, accurate sensors for demanding environments, applications and customers. With Worldwide offices located in Asia, Europe and the Americas, LumaSense Technologies is backed by Oak Investment Partners, a leading multi-stage venture capital firm with a 28-year history and Element Ventures, a leading venture capital investor in clean technology.

More from Controls & Controllers