Wind Turbine Tray Cables perform in harsh environments.
Press Release Summary: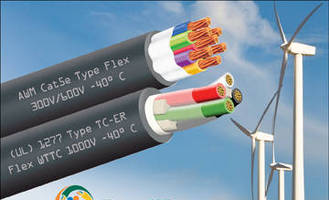 UL- and WTTC-approved Resilience(TM) Cables are designed to support cable needs in nacelle of wind turbine for low-voltage control, data, communication, and exposed-run power applications. Rated to NFPA 79 (12.2.2) for constant flex and high performance, oil-resistant and FT4 flame-rated products exceed proprietary cold-bend test at temperatures down to -40°C and are available in AWM 300 and 600 V as well as WTTC-rated 1,000 V standard configurations from 6-18 AWG.
---
Original Press Release:

Northwire Introduces Resilience(TM) Cables for Wind Turbine Applications



OSCEOLA, Wis.-Northwire, Inc., Technical Cable, an innovative solutions provider in the design, manufacture and marketing of technical and retractile cables, has introduced Resilience Cables for wind turbine applications. The cables are UL and Wind Turbine Tray Cable (WTTC) approved and NFPA 79 (12.2.2) rated for constant flex and high performance. Resilience Cables are guaranteed to perform in harsh environments. Resilience Cable can be designed to ship in five days with no minimum order length or quantity.

Resilience Wind Turbine Tray Cables are designed to support the cable needs in the nacelle of the wind turbine for low-voltage control, data, communication and exposed-run power applications. Resilience Cables have a torsional and bend high-flex-life and have been proven to exceed Northwire's cold-bend test at temperatures as low as -40°C. Highly oil resistant (Oil Res I and II) and FT4 flame rated, 6 to 18 AWG Resilience Cable is available in AWM 300V, 600V and WTTC-rated 1000V standard configurations with a myriad of options for customization to support evolving technology.

"Northwire's Resilience Cable is performance tested for flexibility and durability, and is guaranteed to exceed customers' needs. Proven reliability of wind turbine cable is critical to prevent costly disruption to our customers' operations," says Katina Kravik, chief executive officer. "Resilience Cable is in demand from wind turbine OEMs and will continue in popularity as the U.S. Department of Energy has set a goal of six percent of electricity from wind by 2020."

Resilience Cable is TC-ER (tray cable, exposed-run) rated and WTTC UL 2277 compliant. Also available from Northwire is Cat5e type cable and UL-approved, rugged high-flex, low-voltage control cable in 18 to 26 AWG

For product information, free design and prototype services, visit www.northwire.com/resilience or contact 1-800-468-1516 or +1 715-294-2121..

Northwire, Inc., headquartered in Osceola, Wis., is an industry leader in the design, manufacture and marketing of technical and retractile cables for diverse applications, including industrial, energy, life sciences, government, machine vision, lighting, underwater and more. Northwire has manufacturing facilities in Wisconsin and New Mexico, USA; with a sales office and distribution center in The Netherlands. Northwire is a member of the Fieldbus Foundation, ODVA (Open DeviceNet Vendor Association), PTO (Profibus Trade Organization) and MCAA (Measurement Control and Automation Association), eMerge Alliance, AWEA (American Wind Energy Association), RIA (Robotics Industries Association), AIA (Automated Imaging Association), EMVA (European Machine Vision Association), JIIA (Japan Industrial Imaging Association), CMES (Chinese Mechanical Engineering Society) and WAI (Wire Association International), among others.

Northwire, Inc.
110 Prospect Way
Osceola, WI 54020
USA
Tel.: +1 715-294-2121
Toll free: 1-800-468-1516
e-mail: cableinfo@northwire.com
www.northwire.com/resilience

More from Construction Equipment and Supplies