WiMax Amplifier is available for Sprint's 4G network.
Press Release Summary: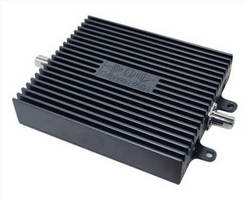 Intended for Sprint's 4G WiMax network, SureCall® CM2500W consists of in-building, FCC-approved, 4G WiMax amplifier with 62 dB median gain and 65 dB max gain. It gives users optimum data download or upload speeds up to 2,000 ft² from amplifier's location, while adjustable gain allows users to fine-tune amplifiers and optimize performance.
---
Original Press Release:

Cellphone-Mate®, Inc. Announces 4G WiMax Amplifier for the Sprint Network, the SureCall® CM2500W in Time for CES 2012



Cellphone-Mate is now the only cellular amplifier manufacturer supplying 4G Signal Boosters for all four major carriers: Verizon, AT&T, T-Mobile and Sprint.

FREMONT, Calif. -- Cellphone-Mate (www.Cellphone-Mate.com) a leading manufacturer of cell phone amplifiers and accessories, today announced that it is introducing the first FCC approved, 4G WiMax amplifier for the Sprint network. With exhibitors introducing multiple 4G portable devices at the upcoming 2012's CES show, January 10 - 13, Cellphone-Mate is the only manufacturer to supply 4G amplifiers for every major carrier in the U.S., including Verizon, AT&T, T-Mobile, and now Sprint.

With the introduction of the SureCall CM2500W amplifier for Sprint's 4G WiMax network, it represents the final 4G cellular amplifier by Cellphone-Mate's for U.S market. This introduction follows 4G LTE amplifiers for the largest U.S. carrier, Verizon, the SureCall CM700V 70dB amplifier, AT&T, the SureCall® CM700A 70dB amplifier, and the SureCall CM2100 AWS amplifier for the T-Mobile network and WIND Mobile in Canada.

"This introduction completes the first part of our 4G cycle in cellular amplifier introductions," Cellphone-Mate's founder and CEO, Hongtao Zhan, states regarding the most recent amplifier product introduction. "Carriers are prepping customers with 4G at every turn. Because of this quick ramp up by carriers, gaps in 4G coverage may occur. As usual, we want to stay ahead of the trend and supply customers with the 4G-ready devices they need for their portable data demands."

Features of the CM2500W 62dB include 62dB, or decibel, median gain and 65 dB maximum gain, giving users optimum data download or uploads speeds up to 2,000 square feet from the amplifier's location. Another feature includes adjustable gain which allows users to fine-tune their amplifiers and optimize performance.

This new, in-building amplifier complements the two external and two internal full-band antennas the company is currently shipping for the 4G network. Each of these full band antennas work with all carriers in North America, for all cellular frequencies, and with all generations of technology including 2G, 3G and 4G.

With cellular amplifiers built specifically for 4G technologies, Cellphone-Mate is the only company that currently supplies aftermarket amplifiers, antennas, splitters and couplers for the North American 4G WiMax, LTE and AWS technologies and frequencies.

Like all its products, the CM2500W 62dB, 4G WiMax amplifier will be covered by Cellphone- Mate's industry exclusive two-year manufacturer's warranty. All Cellphone-Mate products are available from its network of authorized resellers and distributors.

About Cellphone-Mate Incorporated

Cellphone-Mate Inc. - the innovation leader in cellular amplifier technology - specializes in design and manufacturing of cell phone signal amplifiers (Also called Signal booster) and accessories. These amplifier systems provide coverage where there is none, and dramatically improve cell phone communications for businesses, homes and mobile settings in general. The SureCall flagship product line of FCC-approved amplifiers boosts the range and reception of almost any cellular call and/or data. Founded in 2001 and based in the Silicon Valley, Cellphone-Mate is an industry leader with multiple patents pending on their superior signal amplifier technology. The company continues to develop innovative new products that address the changing needs of all types of cellular and mobile broadband users. For more information, visit www.cellphone-mate.com .

CONTACT: John Crook of Cellphone-Mate Inc., 1-888-365-6283, John@Cellphone-Mate.com

More from Electrical Equipment & Systems