William Frick & Company's Emergency Utility Marking Kit Helps Secure Hazardous Areas Hit by a Storm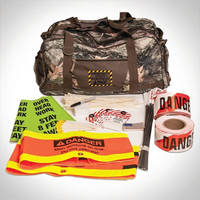 Featuring an assortment of critical safety and warning supplies, William Frick Company has assembled the Emergency Utility Marking Kit to help utility and public work companies warn the public of a potential hazard. Convenient kit includes tags, labels and markers stored in a durable camouflage duffel bag.



The Utility Marking Kit can be used as part of an Emergency Response or Pre-storm Preparedness program. Companies can order several kits and store them throughout their fleet of utility vehicles. When a disaster hits, crew members can just grab the kit and go, making it ideally suited for areas prone to blizzards, floods or anywhere severe weather conditions create a need to immediately mark a hazardous area.



Kit includes: Traffic Cone Sleeve (1), Utility Pole Wraps (2), Hard Hat Emergency Labels (10), Utility Cable ID Tags (25),  Lock-Out Tags (5), "Danger" Marking Flags (50), Red "Danger" Tape (2 x 300-ft rolls),  and one durable Camo Duffel Bag.



The Emergency Utility Marking Kit is available for immediate purchase on shop.fricknet.com or contact William Frick Company at marketing@fricknet.com for more information.





More from Laboratory and Research Supplies and Equipment