Wilke Enginuity Adds New Press Brake to Increase Bending Capabilities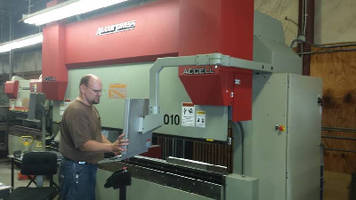 Wilke Enginuity, located in Hanover, PA, recently added more capacity and capabilities to its expansive facility by installing a new AccurPress brake. The new machine holds tighter tolerances and provides greater bending consistency, especially for larger or longer parts. The new system is more efficient, with less setup time for processing each job.  Wilke's engineers and estimators are able to connect their Solidworks program directly to the machine and tap into the entire tooling library for designing, estimating and working with customer projects.



A key feature is the system includes a precision, high-end Wila Tooling system. "The tooling system is the critical part of the system to ensure accurate bends and specifications, especially with large and complex parts," states BJ Wilke, Operations Manager for the company. "The substantial investment and upgrade gives us the ability to meet tighter tolerances, build larger components and maintain specifications throughout the bending process." The advanced tooling system allows the operator to perform "air bending", a method that allows for more radiuses with the same tool.   "With the upgraded capabilities, we can develop flat patterns, multiple bends and tap into the entire Wila tooling library for custom or complex patterns.  It is easy to run samples for each job or prototypes for customers."



The new press brake can produce 140 tons of bending pressure and handles parts up to 10' in length. Wilke is able to utilize the machine to develop complex products and parts that can then be welded or assembled to create components.



Examples of parts or components:

• Off-road vehicles

• Architectural Pieces

• Shelf Brackets



About Wilke:

Wilke Enginuity has been providing CNC Laser Cutting Services and CNC Machining Services to its customers for more than 25 years. We were the first laser cutting company east of the Mississippi. Today we have the latest machines available and have added laser marking and laser engraving capabilities. We also have complete CNC Machining capabilities including CNC turning, milling and routing services, CNC forming and fabrication. We work with virtually any material including aluminum, stainless, carbon, brass, bronze, alloys, plastics, wood, glass, rubber, foams and more.



As a contract manufacturer, Wilke Enginuity regularly produces a wide range of products from small components to large assemblies. For more  information, please visit our website www.wilkelaser.com or call us 800-936-6201. 

Related