Widescreen 24 in. Modular Panel PC offers Full HD resolution.
Press Release Summary: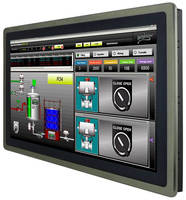 Powered by Intel® Core™ i7-4650U or Atom™ E3845 Quad Core Processor Technology, 24 in. 1080p Premium and Standard 24 in. FHD series of intelligent touch panel PCs feature field-replaceable front displays and box IPCs. These fanless units, rated to IP65/NEMA 4, have open architecture and provide externally accessible and removable SSD storage enclosure as well as 24 Vdc (9.6–28.8 V) isolated industrial power supply. Multiple connectivity, display, and expansion options are standard.
---
Original Press Release:

AIS Announced a New, Innovative 24 Inch Modular Panel PC with Full HD Resolution and Wide Screen Touch Monitors for Operation and Process Information Management Solutions



AIS's 24" Touch Panel PC Integrated with a Powerful Intel® Core™ i7-4650U or Intel® Atom™ E3845 Quad Core Processor Technology Ideal for HMI, SCADA, MES and/or ERP Applications



IRVINE, CALIFORNIA – American Industrial Systems, Inc. (AIS) an innovator and the leader of Industrial HMIs, Touch Panel Computers, Industrial PCs (IPCs), Industrial Box PCs, Industrial DIN-Rail PCs, and Industrial Thin Clients, releases new 24" Full HD (FHD or 1080p) widescreen touchscreen monitors in their Premium and Standard Series of open architecture, HMI Touch Panels and monitors portfolio. The Premium and Standard series touch panel PC offering from AIS, now features 24" brilliant, widescreen touch panels, monitors and displays with resistive touch technology.



AIS's 24" 1080p Premium and Standard 24" FHD series of intelligent touch panel PCs are renowned for their scalability, modularity and expandability, featuring powerful Intel® Core™ i7-4650U or Intel® Atom™ E3845 Quad Core Processor Technology, field-replaceable front displays and box IPCs, externally accessible and removable SSD storage enclosure, and 24 V DC (9.6 V to 28.8 V) isolated industrial power supply. Engineered for visualization, automation, control and monitoring applications, AIS's new 24" touch panel displays and monitors support manufacturing operations, enterprise integration and help refine integrated industrial operations. They serve a wide variety of applications including Industrial HMI, SCADA, MES and/or ERP applications.



AIS's 24" Monitor with Full HD (FHD), Native 1920 x 1080 Panel Resolution Optimized for Operation and Process Information Management Solutions



Utilizing open architecture, AIS's 24" widescreen monitors offer FHD (1080p) resolution for your plant-to-enterprise integration efforts to link business and manufacturing systems. AIS 24" FHD Premium and Standard 24" 1080p series touch panel PCs deliver better performance by managing orders and operations transparency to reduce production cycle costs. When packaged with SCADA, MES or ERP software programming tools and solutions, AIS's Premium and Standard series touch panel PCs and monitors facilitate MES solutions by providing users with widescreen visualization solutions with an open architecture HMI for flexibility and increased operational efficiencies, quality, compliance and performance.



Designed for Use in Continuous Process Industries, AIS Premium & Standard Series 24" Widescreen Touch Panels Help Operations Managers Gain Access to Timely, Accurate and Relevant Information



Operations Managers and decision-makers at industrial factories and plants require immediate access to accurate and relevant information on a timely basis to ensure peak performance and meet their operations' key performance indicators. Along with SCADA packages, AIS 24" 1080p Premium and Standard 24" FHD widescreen solutions integrate with plant equipment and data sources to bring real-time condition and status information into the operator managers' decision making process for better managing of materials to gain the highest efficiencies, while meeting regulatory and operations goals for profit, quality, and maximum uptime. AIS's Premium and Standard series widescreen HMI touch panels are used in process simulation and design to allow users to find more efficient processes. This could encompass alternate configurations for various pieces of equipment and different design options within a virtual environment to produce the most effective design.



Integrating AIS's intelligent family of Premium and Standard series 24" widescreen touch panels into plant-to-enterprise operations provide engineers with time and labor savings, increased accuracy of process designs, decreased capital and operating costs and tools for improving the industry value chain, as well as consider other important design implications, such as regulatory compliance, profitability and safety.



Premium and Standard Modular 24" Touch Panel HMIs from AIS Offer Users a High Degree of Flexibility for Interfaces and Future System Expansion



AIS Premium HMIs feature high-speed, USB 3.0, high data transfer rate, redundancy, and teaming capable Gigabit Ethernet, highly reliable and flexible RS232/422/485 serial communication interfaces with electrical isolation protection; highly flexible graphics and video interfaces with VGA, HDMI and audio ports, and a free expansion PCIe slot.



24" 1080p Premium and Standard HMI widescreens from AIS are rugged touch panel PCs which feature: IP65/NEMA 4 rated compact aluminum housing, no rotating parts (fan/ HDD), energy-efficiency with 100% dimmable display brightness, fan-less operation up to ambient temperatures of 50 °C; and resistance to high temperature, vibration, shock and EMC for 24-hour continuous operation without maintenance. AIS Premium and Standard Touch Panel PCs with x86 64-bit open platform and preinstalled Windows Embedded operating systems enable fast, economical deployment of improved HMI systems for visualization, SCADA applications, Industry 4.0 & IoT requirements.



About AIS

Headquartered in Irvine, California, USA, American Industrial Systems, Inc. (AIS) offers in-house electronic and mechanical design, software development, manufacturing, production and quality control services. Offering one of the widest ranges of industrial computing solutions, AIS open platform control and monitoring solutions are available in a multitude of configurations for industrial, building automation, food & beverage, oil & gas, military and marine applications. The company's HMI solutions are key enabling technologies for the Internet of Things (IoT), Industrial Internet of Things, (IIoT), Machine-to-Machine Communications (M2M) and Industry 4.0 applications. AIS is fully committed to empowering, improving and delivering turnkey HMI, control, monitoring and display solutions for OEM, ODM and end-user customers. AIS is an ISO 9001:2008 certified supplier and manufacturer of rugged computers and displays, and received completion of the International Traffic in Arms Regulations (ITAR) registration from the Directorate of Defense Trade Controls (DDTC). For more information, visit: www.aispro.com  email: sales@aispro.com or contact: 1-888-485-6688.



Media Relations Contact:

American Industrial Systems, Inc.

David G. Martorana

Director Marketing & Communications

1.847.630.6487 or dynmarent@gmail.com

More from Fasteners & Hardware