Wi-Fi Router accelerates network speeds via MU-MIMO compatibility.
Press Release Summary: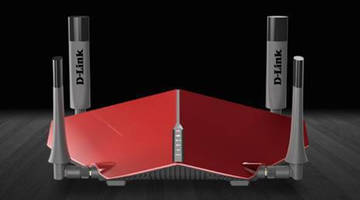 Along with traffic and signal strength/throughput optimization technologies, AC3150 Ultra Wi-Fi Router (DIR-885L/R) incorporates multi-user MIMO (MU-MIMO) technology for simultaneous transmission to groups of clients. Router has 4 detachable external antennas and high power amplifiers and supports 4x4 data streams and speeds up to 2,167 Mbps on 5 GHz band and 1,000 Mbps on 2.4 GHz band. Four Gigabit LAN Ethernet ports provide wired connectivity, and one USB 3.0 port is standard as well.
---
Original Press Release:

D-Link Now Shipping AC3150 Ultra Wi-Fi Router



Second Router in Ultra Series Offers MU-MIMO Compatibility For Three Times Faster Network Speeds



FOUNTAIN VALLEY, Calif. – D-Link today announced the immediate availability of its newest Ultra Series Router, the AC3150 Ultra Wi-Fi Router (DIR-885L/R). The AC3150, like its AC3200 predecessor, boasts a bold and unique design along with the excellent performance that's come to be expected with the D-Link® Ultra Series. Built with the 11AC speed, coverage and processing power needed to support the most bandwidth-demanding applications and devices, the AC3150 delivers premium performance.



The AC3150 Ultra Wi-Fi Router comes packed with advanced features including dual-band speeds of up to 3,167Mbps1, SmartConnect to automatically assign clients to the wireless band providing the best bandwidth and Advanced AC SmartBeam to enhance signal strength and throughput. For added performance, the AC3150 incorporates the latest multi-user MIMO (MU-MIMO) technology2 that enables simultaneous transmission to groups of clients, making more efficient use of available Wi-Fi network capacity and speeding up transmissions.



"The availability of the AC3150 Ultra Wi-Fi Router strengthens D-Link's position as a market innovator as more and more consumers are looking for routers with unique designs that deliver the latest technology," said Ken Loyd, director of product marketing, D-Link Systems, Inc. "The AC3150 offers users the ability to provide high-bandwidth signal to multiple devices simultaneously, delivering a premium performance for today's most demanding tasks like HD streaming and gaming."



The AC3150 Ultra Wi-Fi Router is equipped with four high-performance detachable external antennas and high power amplifiers designed to maximize range and optimize coverage along with 4x4 data streams for maximum throughput to handle even the most intense 4K streaming and gaming sessions. In addition, the router features four gigabit LAN Ethernet ports for high speed wired connectivity and are enabled with WPA™ or WPA2™ security and Wi-Fi Protected setup to ensure network integrity and ease-of-setup.



More about the AC3150 Ultra Wi-Fi Router:



· 11AC Wi-Fi Dual Band Connectivity – Speeds up to 2167 Mbps on the 5GHz band and 1000Mbps on the 2.4GHz band for maximum throughput with less Wi-Fi interference



4x4 Data Streams – Supports four data streams for increased throughput

1.4GHz Dual Core Processor – Faster network speed for a more powerful router

MU-MIMO Ready – High-bandwidth Wi-Fi signal to multiple devices at the same time

SmartConnect – Allocates the best possible band for optimal Wi-Fi performance

High Power Antennas – provide wider coverage throughout your home

Intelligent QoS - Traffic optimization delivers seamless performance for your applications

USB 3.0 Port – Speeds up to 10x faster than USB 2.0



Availability and Pricing

The AC3150 Ultra Wi-Fi Router (DIR-885L/R) is available now for $279.99 through D-Link's vast network of retail and e-tail outlets. Detailed specifications are available online at D-Link's website.



About D-Link

D-Link is the global leader in connectivity for home, small business, mid- to large-sized enterprise environments, and service providers. An award-winning designer, developer, and manufacturer, D-Link implements and supports unified network solutions that integrate capabilities in switching, wireless, broadband, storage, IP Surveillance, and cloud-based network management. For more information visit us.dlink.com, or connect with D-Link on Facebook (http://www.facebook.com/dlink) and Twitter (www.twitter.com/dlink) and D-Link's Blog (http://blog.dlink.com/).



D-Link and the D-Link logo are trademarks or registered trademarks of D-Link Corporation or its subsidiaries. All other third-party marks mentioned herein may be trademarks of their respective owners. Copyright © 2015. D-Link. All Rights Reserved



1 Maximum wireless signal rate derived from IEEE 802.11ac specifications. Actual data throughput will vary. Network conditions and environmental factors, including volume of network traffic, building materials and construction, and network overhead, lower actual data throughput rate. Environmental factors may adversely affect wireless signal range.

2 Firmware update required to support MU-MIMO

More from Construction Equipment and Supplies