Wheeled Dozer offers compaction and maneuverability.
Press Release Summary: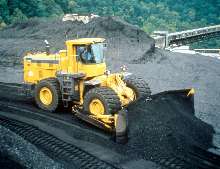 Rubber-tired Model WD600-3 pushes with 485 flywheel hp at 2,000 rpm and offers maximum rim-pull up to 94,300 lb. It features Tier 2 compliant SAA6D170E-3 engine and fully automatic shift transmission. Fully hydraulic, wet-disc braking system is completely sealed to lock out contaminants. A 10 cu yd straight blade is standard. Dozer is suited for mining, coal stockpile, woodchip, and general earthmoving applications.
---
Original Press Release:

Komatsu Unveils WD600-3 Wheeled Dozer


o Ideal for dozing operations requiring compaction, maneuverability
o Lower operating cost than tracked dozers

VERNON HILLS, Ill. - August 6, 2003 - Komatsu America Corporation (KAC) introduces the WD600-3, a wheeled dozer for mining, coal stockpile, woodchip, and general earthmoving applications where increased maneuverability and/or compaction are required. Rubber-tired dozers like the WD600-3 offer lower operating costs and higher travel speeds than tracked machines, and offer better compaction on materials such as coal and wood chips - especially critical in stockpile applications where the opportunity for spontaneous combustion exists.

Perfect for dumpsites, stockpiling and the stripping of overburden from mine sites, the WD600-3 pushes with 485 flywheel HP at 2,000 rpm and offers maximum rim-pull up to 94,300 lbs. for added pushing force. Featuring Komatsu's Tier 2 compliant SAA6Dl70E-3 engine, it shares a high parts commonality with Komatsu's WA600-3 wheel loader and incorporates many of that machine's production and comfort features.

Production Features/Benefits
A rubber-tired dozer not only helps compact more air out of the materials it operates on, but the cost of tires is considerably less than that of the upkeep and maintenance of a crawler dozer's tracks and undercarriage. In applications where a dozer is used to maintain haul truck dumping sites, a crawler dozer receives a great deal of wear and stress on its undercarriage components due to constant pivoting and short pushes, whereas the WD600-3 makes more fluid, similarly powerful pushes in less time.

The WD600-3 features a fully automatic shift transmission system for increased operator comfort. In manual mode the electronically controlled transmission allows the operator to control direction and gearshift levels while keeping his/her hands on the steering wheel, enabling instant, positive gear changes and reducing operator fatigue.

The WD600-3's fully hydraulic, wet-disc braking system is completely sealed to lock out contaminants, such as dirt and dust, and eliminates the freezing and rusting caused by water condensation in air-operated systems.

Several blades are offered to tailor the WD600-3 to the many different material densities found in the marketplace. A 10 cubic yard straight blade is standard equipment. Optional semi-U blades for earthmoving as well as full-U blades for coal and woodchips are available. All blades include lift, tilt and pitch functions controlled by Komatsu's proportional pressure pilot hydraulic controls, making blade control extremely easy.

Operator Comfort
The operator's cab, one of the largest in the industry, sits on a viscous damping mount system that also acts to reduce noise and vibration. Dual doors allow entry from either side of the machine.

The operator seat features an air suspension design with a self-contained air compressor at its base, immediately adjusting to operators of all sizes. In addition to the standard cab set-up, the WD600-3 also features an optional joystick system for those who prefer stick steering to the use of a steering wheel. The optional, low effort Stick-Steer Control System allows for precise directional control, but the standard steering wheel overrides the joystick in all applications.

Topping off Komatsu's commitment to operator comfort are features such as an electronically controlled heater, defroster and air conditioner, coat hook, dual dome lights, lunch box storage and an optional AM/FM cassette player - all factory installed.

Easy Maintenance
The WD600-3 features an on-board monitoring system that evaluates operating conditions on three levels (pre-start level checks, cautions and warnings) to notify the operator of machine problems before a costly failure occurs. Oil and filter service intervals have been increased from 250 to 500 hours, and all major engine and service components are easily accessible to encourage and ensure the implementation of regular maintenance schedules.

Komatsu America Corp. (KAC) is the second-largest manufacturer and supplier of construction, mining and utility equipment and parts and services in North America.

Visit Komatsu America's website at www.komatsuamerica.com.

More from Electrical Equipment & Systems