Wheel Grinder is suited for cylindrical gear grinding.
Press Release Summary: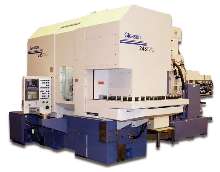 Model 245TWG High Speed Threaded Wheel Grinder uses direct-drive spindles on grinding and work spindles, allowing higher grinding wheel speeds and elimination of gears, belts, and other mechanical drivetrain components. Gleason master dressing gear system can dress multi-start grinding wheels, and for small lot production machine can be equipped with conventional CNC dressing unit. Machine also features automated carousel loading.
---
Original Press Release:

Gleason Introduces 245TWG High Speed Threaded Wheel Grinder for Fast, Economical Cylindrical Gear Grinding.


September 8, 2004-- In response to increased demand for quieter, stronger and higher quality cylindrical gears, Gleason has introduced the 245TWG High Speed Threaded Wheel Grinder, a machine that can reduce floor-to-floor times, for example, on a typical 8 inch diameter gear from the 3-4 minutes typically required by a conventional grinder to just 1.10 - 1.35 minutes.

The 245TWG features the use of direct-drive spindles on the grinding and work spindles, making possible higher grinding wheel speeds and the elimination of gears, belts and other mechanical drivetrain components, helping to produce inherently more accurate gears. This technology also enables the 245TWG to take full advantage of the latest "multi-start" grinding wheels made with the most advance materials to permit more efficient operation at higher surface speeds and metal removal rates. A grinding wheel with seven starts, for example, can improve the production rate by 5-10 times versus that of a conventional "single start" grinding wheel.

In addition, the 245TWG uses a patented Gleason master dressing gear system that can dress a multi-start grinding wheel in the same time regardless of the number of starts. With a conventional CNC dresser, the dressing time is increased with the addition of each start. But with the new Gleason master dressing gear process, the total dressing cycle for even a multi-start wheel can be equal to or less than the grinding time for one gear when the CNC dressing method is used.

For smaller lot production, prototype work and other applications requiring more dressing flexibility, the 245TWG can be equipped with a fully automatic CNC dressing unit that dresses wheels in the conventional manner.

The 245TWG also comes equipped with automated carousel loading. This fast loading system is similar to the loading systems used on Gleason's hobbing machines. Its simplicity and convenience enhances the rapid load /unload capability. Spin stations and other features can be added to the loader system.

The 245TWG's exceptional rigidity is derived from the standard Gleason hobbing machine base -- a proven design that provides significantly enhanced stiffness and stability.

Gleason Corporation is a world leader in the development, manufacture and sale of gear production machinery and related equipment and services. The Company's products are used by customers in automotive, truck, aircraft, agriculture, construction, power tool and marine industries and by a diverse set of customers serving various industrial equipment markets. Gleason has manufacturing operations in Rochester, New York; Rockford, Illinois; Plymouth, England; Munich and Ludwigsburg, Germany; Bangalore, India; and Biel, Switzerland, and has sales and service offices throughout the United States and Europe and in the Asia-Pacific region

More information about Gleason Corporation is available on the World Wide Web at www.gleason.com.

More from Electronic Components & Devices