Wheel Force Transducer suits fuel-efficient cars.
Press Release Summary: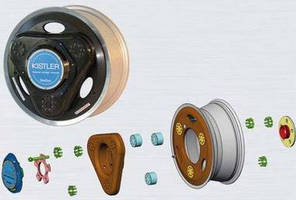 RoaDyn® S615 System 2000 6-component unit is based on 3 load cell concept and features carbon fiber reinforced plastic rim, rim ring, and wheel disk. Device allows maximum vertical load Fz of approximately 15 kN. Mounted on vehicle as complete wheel, it measures forces Fx, Fy, and Fz and torques Mx, My, and Mz on rotating wheel. Measurement signals are converted to digital in wheel electronics and transmitted to on-board electronics and output as analog or digital signals.
---
Original Press Release:

New RoaDyn® S615 System 2000 6-Component Wheel Force Transducer with Characteristics Optimized for Small and Light Cars



In addition to engine and air resistance, the key factors in the development of vehicles with reduced fuel consumption are weight and rolling resistance. The new RoaDyn S615 is a wheel force transducer tailored to this car of the future. Reduced vehicle masses and nar-rower tires allow further reduction of the weight of the CFRP (carbon fiber reinforced plastic) components of the transducer. It is optimized for recording load spectra for durability, vehicle dynamics and power train investigations.

Design of the RoaDyn S615 is based on a three load cell concept. Saving one cell and its mounting screws shaves 400 g off the weight of the established RoaDyn S625 lightweight wheel force transducer system.

There is another potential saving of 400 g available in the design of the inner part, whose CFRP construction offers a reduction of up to 20 % compared with the RoaDyn® S625. The optimized design of the RoaDyn S615 allows a maximum vertical load Fz of approximately 15 kN.

The tried and tested CFRP/aluminum composite rim has been adapted to suit the RoaDyn S615 configuration. It consists of an aluminum rim ring and matching wheel disk manufactured from carbon fiber reinforced plastic. The positive and frictional connection of these components ensures great strength. The inner part represents the connection with the hub and is also made of CFRP. The three load cells connect the rim to the inner part. To minimize local stresses all of the relevant components were optimized using the finite element method (FEM).

The RoaDyn S615 is mounted on the vehicle as a complete wheel. It measures the three forces Fx, Fy, and Fz and the three torques Mx, My and Mz on the rotating wheel. The measurement signals are converted into digital form in the actual wheel electronics and transmitted to the on-board electronics by means of the inboard telemetry. In the electronics they are transformed into the vehicle coordinate system and output as analog or digital signals. The components needed for over-the-road measurement, such as wheel and on-board electronics, telemetry and adapters, are fully compatible with RoaDyn® family of products from Kistler.

Kistler Group

Eulachstrasse 22 Tel. +41 52 224 11 11 ZKB Winterthur BC 732 IBAN: CH67 0070 0113 2003 7462 8

8408 Winterthur Fax +41 52 224 14 14 Swift: ZKBKCHZZ80A VAT: 229 713

Switzerland info@kistler.com Account: 1132-0374.628 ISO 9001 certified www.kistler.com
Kistler Group

Eulachstrasse 22 Tel. +41 52 224 11 11 ZKB Winterthur BC 732 IBAN: CH67 0070 0113 2003 7462 8

8408 Winterthur Fax +41 52 224 14 14 Swift: ZKBKCHZZ80A VAT: 229 713

Switzerland info@kistler.com Account: 1132-0374.628 ISO 9001 certified www.kistler.com
RoaDyn® S615 wheel force transducer with three load cells for small and light vehicles

Kistler Group

Kistler's core competence is the development, production and use of sensors for measuring pressure, force, torque and acceleration. Kistler's know-how and electronic systems can be used to prepare measuring signals for use in analyzing physical processes, controlling and optimizing industrial processes, improving product quality in manufacturing and improving performance in sports and rehabilitation.

Kistler offers a comprehensive range of sensors and systems for engine development, automotive engineering, plastics and metal processing, installation technology and biomechanics.

A worldwide sales presence in the form of 25 group companies and 30 distributors ensures customer proximity, application support on an individual level and short lead times.

With a staff of about 1,000, the Kistler Group is one of the world's leading providers of dy-namic measuring instrumentation. The Kistler Group achieved turnover of 166 million Swiss Francs in the 2009 financial year. 200-643e-06.10

More from Communication Systems & Equipment