Additive Manufacturing Systems
Whale Cuts Product Development Timescales with Objet 3D Printing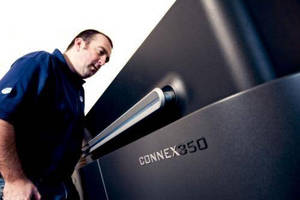 RHEINMUENSTER, Germany- Watertight materials cited as key advantage of Objet Connex multi-material technology

Award-winning water pump and heating system manufacturer, Whale, today announced an increase in new business following the purchase of an Objet Connex multi-material 3D Printer for its headquarters in Bangor, Northern Ireland. The introduction of Objet Connex multi-material technology means the company can now prototype design concepts with supreme accuracy and undertake robust testing using watertight digital materials - helping the company to bring its products to market quicker than ever before.

"We saw Objet Connex multi-material technology as a means to provide a broad capability," comments Richard Bovill, Whale Design Engineering Manager. "The range of materials from rigid to rubber gives us a great advantage when recreating production parts, especially the water tight material, as it allows us to carry out robust tests that can reduce the product development process by weeks or even months."

Over the past three years Whale has issued 15 worldwide design patents, driven by its culture of innovation throughout the business, supplying first class products to the marine, caravan and motorhome, shower drainage and industrial markets. To maintain its leadership in these markets, Whale added an Objet Connex 3D Printer to its portfolio of rapid prototyping solutions to expand its capabilities when designing new products and making improvements to current solutions.

"Using Objet Connex multi-material technology we can now produce rubber, over-molded, transparent and waterproof models, allowing us to recreate design faults and identify ways we can improve our products in a much more cost effective and timely manner," says Managing Director Patrick Hurst. "This has enabled us to increase our existing business and create new business opportunities, whilst maintaining the level of innovation our customers are accustomed to."

With the Objet Connex multi-material 3D Printer currently in operation 24 hours a day, Whale are using a large variety of materials to deal with the demand and diversity of its customer's design projects.

"Having such a wide range of shore hardness and the ability to print rubber parts, means that it is like having three machines in one. We can now deliver our customers a finished high quality model in as little as 24 hours," concludes Hurst.

Whale purchased the Objet Connex 3D Printer through Objet UK distributor HK Rapidprototyping. Nigel Bunt, Sales Director at HK Rapidprototyping, adds: "The Objet Connex provided Whale the ideal solution for their product design projects. Whale has now become more flexible and thus increased its workflow capacity."

About Objet

Objet Ltd. [http://www.objet.com ], is a leading provider of high quality, cost effective inkjet-based 3D printing systems and materials. A global company, Objet has offices in North America, Europe, Japan, China, Hong Kong, and India.

Objet's 3D printing systems and 3D printing materials are ideal for any company involved in the manufacture or design of physical products using 3D software or other 3D content. Companies using Objet's solutions can be typically found in sectors [http://www.objet.com/INDUSTRIES ] such as consumer goods & electronics, aerospace & defense, automotive, education, dental, medical and medical devices, architecture, industrial machinery, footwear, sporting goods, toys and service bureaus.

Founded in 1998, the company has thousands of customers [http://www.objet.com/RESOURCES/Case_Studies ] worldwide including a substantial share of the relevant Fortune 100 and Fortune 500. Its award-winning technology (13 awards in 8years) is based upon over 110 patents and patent pending inventions.

Objet's advanced 3D printing systems and range of over 100 materials
[http://www.objet.com/3D-Printing-Materials ] enable professionals to build prototypes that accurately simulate the true look, feel and function of an end-product, even complex,assembled goods. The Objet Connex [http://www.objet.com/3D-Printer/Objet_Connex_Family](TM) line of multi-material 3D printers features the world's only technology to simultaneously jet 2 materials. With this, users can print many different materials into a single part and print various mixed parts on the same build tray. Users can also create advanced composite materials, or Digital Materials

[http://www.objet.com/3D-Printing-Materials/Overview/Digital_Materials ](TM) featuring
unique mechanical and thermal properties. Objet's range of over 100 3D printing materials

[http://www.objet.com/3D-Printing-Materials ] simulate properties ranging from rigid

[http://www.objet.com/3D-Printing-Materials/Overview/Rigid_Opaque ] to rubber-like

[http://www.objet.com/3D-Printing-Materials/Overview/Rubber-like ], transparent

[http://www.objet.com/3D-Printing-Materials/Overview/Transparent ] to opaque and standard to ABS-grade engineering plastics

[http://www.objet.com/3D-Printing-Materials/Overview/ABS-like ], with a large number of
in-between shore grades and shades.

Objet's 3D printers [http://www.objet.com/3D-Printer/Products_Overview ] are available
in a range of form-factors, from cost-effective desktop 3D printers ideal for entry-level professionals all the way to industrial-scale multi-material machines for front-line designers and top manufacturers. Objet's 3D printers feature the industry's
highest-resolution 3D printing quality, based on 16-micron (0.0006 in.) super-thin
layering, wide material versatility, office friendliness and ease of operation.

For more information, visit us at www.objet.com and for more about 3D
printing industry-related news, business issues and trends, read the Objet blog
[http://blog.objet.com ].

Objet Media Contact

USA

Todd Graff

Conover Tuttle Pace

Tel. +1-617-412-4000

Email. tgraff@ctpboston.com

Europe

Claire Russell-Jones

UK Bespoke

Tel: +44-1737-215200

E-mail. claire@bespoke.co.uk

Objet

Arita Mattsoff

Objet

Tel. +972(0)74-745-4000

Email. arita@objet.com

Korea

Jihyun Lee

The Hoffman Agency Korea

Tel. +82-10-3408-1609

Email. jhlee@hoffman.com

Japan

Objet Japan

Aya Yoshizawa

Tel. +81-90-6473-1812

Aya.yoshizawa@objet.com

Asia Pacific

Objet AP Ltd

Vicki Kei

Tel. +852-3844-8813

Vicki.kei@objet.com

Brazil

Tatiana Fonseca

307 Nova Cidade, Sao Paulo

Tel: +55-11-3846-9981

Email. tatiana@gadcom.com.br

Mexico

Patricia Tawil

IDESA

Tel. +52-55-5253-9670

Email. ptawil@idesap.com

South Africa

Alison McDonald

PR Connections

Tel. +27(0)11-468-1192

Email. alison@pr.co.za

Objet Ltd.

More from Packaging Products & Equipment