Wet Mill has high-shear design.
Press Release Summary: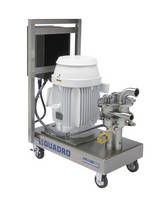 Employing rotor-stator suspension milling technology, high shear Ytron HV-Wet Mill is available in 3 different models ranging from 25-125 hp with capacities up to 150 gpm. Energy optimized tooling operates at tip speeds up to 70 m/sec with low power consumption, while sanitary high-speed mechanical seal eliminates potential trap areas around rotor shaft, optimizing clean-in-lace results. Options include selection of motors, controls, and portable bases.
---
Original Press Release:

Quadro Launches a New High Shear Micronizing Wet Mill



Quadro is proud to introduce the Ytron HV-Wet Mill, an innovative rotor-stator suspension milling technology that provides a high value alternative to traditional media milling. To liquid pharmaceutical processors interested in suspension milling and micronization, Quadro Ytron® HV is the brand of wet mill that offers more than fifty times (50x) the high shear milling energy of a conventional rotor-stator system due to its high velocity rotor and unique tooling geometry. Difficult-to-clean and time consuming media mill processing can now be displaced with a sanitary high capacity HV solution.

The HV-Wet Mill Series features three different models ranging from 25-125Hp depending on desired capacity, up to approximately 150gpm. All models utilize energy optimized tooling that operates at tip speeds up to 70m/s with the lowest power consumption in the industry, in addition to a sanitary high-speed mechanical seal that eliminates potential trap areas around the rotor shaft for improved CIP results.

Various other equipment options are available including a selection of motors, controls, portable bases, etc. For more information, please contact;

E-mail: sales@quadro.com
Website: www.quadro.com
Phone : (519) 884-9660 [Canada & International]
Phone : (973) 376-1266 [USA]
Fax : (519) 884-0253