Wet Electrolytic Tantalum Capacitors employ high CV components.
Press Release Summary: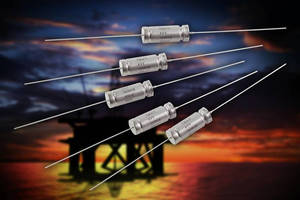 Supplied in hermetically sealed welded tantalum can and header assembly, shock- and vibration-resistant TWA-Y Series include 470 µF/100 V and 1,000 µF/75 V components. These products, designed for continuous operation at 200°C (with applicable derating), provide endurance ratings up to 2,000 hr and exhibit stable electrical parameters from -55 to +200°C. Cathode system enables high-CV performance in standard DSCC case sizes from T1–T4.
---
Original Press Release:

AVX Extends TWA-Y Series 200°C Wet Tantalum Capacitors with New High CV Components



Delivering high reliability, long lifetime performance in high temperature & harsh shock & vibration environments, TWA-Y Series capacitors are ideal for input & output filtering & energy storage & discharge in avionics, industrial, & down-hole applications



FOUNTAIN INN, S.C. – AVX Corporation, a leading manufacturer of passive components and interconnect solutions, has extended its TWA-Y Series wet electrolytic tantalum capacitors with the addition of new, high CV 470µF/100V and 1,000µF/75V components. These components act as drop-in replacements for existing M39006-style wet tantalum capacitors in applications that may require operation at temperatures spanning 125°C to 200°C.



TWA-Y Series wet tantalum capacitors are designed for continuous operation at 200°C (with applicable derating) and provide endurance ratings up to 2,000 hours. Featuring a unique cathode system that enables high CV performance in standard DSCC case sizes spanning T1–T4, TWA-Y Series capacitors deliver high reliability, high temperature, and long lifetime performance, and exhibit stable electrical parameters over temperature (-55°C to +200°C). Hermetically sealed in a welded tantalum can and header assembly, TWA-Y Series capacitors also satisfy the harsh mechanical shock and high frequency vibration requirements for MIL-STD-202 method 204, test condition "D" and method 213, test condition "I," making them ideal for input and output filtering and energy storage and discharge in high temperature avionics, industrial, and down-hole applications.



"Wet tantalum capacitors are ideal for input and output filtering due to their high ripple current capabilities and for energy storage and discharge due to their high bulk capacitance and low ESR," said Allen Mayar, product marketing manager at AVX. "Expanding the capacitance and voltage values for our high temperature, wet tantalum TWA-Y Series, which features several components rated for 2,000-hour lifetimes at 200°C operating temperatures, provides design engineers with a wide array of robust, high performance, high reliability components that will prove critical for developing the next generation of harsh environment applications."



The still-expanding TWA-Y Series is currently rated for capacitance values spanning 68–1,000µF with a ±10% or ±20% capacitance tolerance, rated voltages spanning 50–125V, and temperatures spanning -55°C to +200°C. However, several additional components that will eventually extend the series from 10–1,000µF and 25–125V are in active development. Supplied with either SnPb 60/40 or lead free compatible and RoHS compliant matte tin terminations in a tray pack, lead time for the series is 8–10 weeks.



For more information about AVX's TWA-Y Series wet electrolytic tantalum capacitors designed for use at 200°C, please visit http://www.avx.com/products/tantalum/wet-tantalum/twa-y-series/ to access the product datasheet, catalog, mil/aero specifications, relevant technical papers, and modeling software. For all other inquiries, including requests for custom component design, please visit www.avx.com, call 864-967-2150, or write to One AVX Boulevard, Fountain Inn, S.C. 29644.



About AVX

AVX Corporation is a leading international supplier of electronic passive components and interconnect solutions with 20 manufacturing and warehouse facilities in 11 countries around the world. AVX offers a broad range of devices including capacitors, resistors, filters, timing and circuit protection devices and connectors. The company is publicly traded on the New York Stock Exchange (NYSE:AVX).



For more information, contact:

Allen Mayar

Product Marketing Manager, AVX

864-228-4540

allen.mayar@avx.com



Christine Stieglitz

PR Executive, BtB Marketing

919-872-8172

christine.stieglitz@btbmarketing.com

More from Architectural & Civil Engineering Products