Wet/Dry Vacuum Cleaner has 13 gal capacity.
Press Release Summary: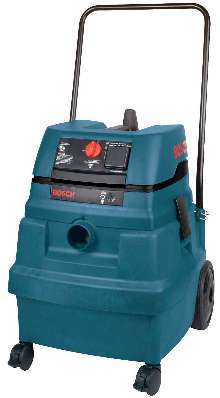 Bosch 3931 Airsweep maintains maximum airflow and suction power by utilizing U-shaped, electromagnetic Pulseclean(TM) filter cleaning system. Standard filters capture 99.93% of particles 3.0 microns and larger in diameter and are positioned out of direct flow of incoming debris and above reach of dust or liquid already collected in storage tank. Unit has 4 operating modes: vacuuming, Pulseclean, power tool activation, and Pulseclean/power tool activation.
---
Original Press Release:

Bosch Introduces New Vacuum With Exclusive Pulseclean Filter Cleaning System


CHICAGO, July 2, 2003 -Today, Bosch introduces a powerful new vacuum cleaner with the Bosch-exclusive Pulseclean filter cleaning system, which uses an electromagnetic system to shake dust off the twin filters to maintain maximum airflow and suction power -without having to open the unit. The new Bosch 3931 "Airsweep" 13-gallon wet/dry vacuum offers users new ways to keep their workshops and jobsites cleaner, safer and healthier.

Bosch recognizes the demand for dust extraction equipment that allows professionals to do their jobs better. Dust-free sanding (when the sandpaper rides directly on the work surface rather than on a bed of dust) is not only faster, but creates a better finish. And the fact that a vacuum cleaner immediately removes wood chips and dust when routing and sawing provides enhanced visibility, making it easier to do accurate and efficient work. In addition, the Bosch expertise with rotary hammer and grinder applications includes extensive knowledge of concrete and masonry applications that require dust collection, such as masonry tuckpointing and drilling in concrete in computer rooms. Additionally, Bosch recognizes the growing awareness and importance of dust collection for health and safety reasons and the resulting demand for good dust collection equipment for those purposes.

The superior suction power on the Bosch 3931 vacuum cleaner is due, in part, to the large surface areas of its twin filters and optimal filter geometry for maximum suction power and easy cleaning. Competitors' vacuums typically use a V-shape filter system, while the 3931 uses a U-shape system, allowing dust to be shaken free from the filter with ease. The standard filters (product number VAC012), which capture 99.93% of all particles 3.0 microns and larger in diameter, are well protected as they are positioned out of direct flow of the incoming debris and above the reach of the dust or liquid that has already been vacuumed into the storage tank. Additionally, the 3931 has the quickest and easiest filter change system on the market, allowing users to simply open the lid and drop in new filters.

The 3931 has four separate operating modes. In addition to normal vacuuming and Pulseclean modes, the 3931 has a power tool activation mode and a mode that combines Pulseclean(tm) with power tool activation. The special power receptacle on the front of the unit gives users the ability to plug a power tool directly into the vacuum, allowing them to start and stop the tool and vacuum together. In order to keep the work area as clean as possible, the vacuum stays on for an extra seven seconds to clear the hose and ensure that there is no residual dust that can spill out onto the jobsite, truck or storage area.

The Pulseclean with Power Tool Activation mode is the most comprehensive feature of the unit. In this mode, when the tool is switched off, the vacuum cleaner automatically determines if the filters are substantially dirty and, if necessary, activates the Pulseclean system to clean them. This system is especially useful to those doing work on scaffoldings while the vacuum cleaner is on the ground, reducing downtime.

Some of the many additional features that set the 3931 vacuum apart from its competition include: a built-in circuit breaker to protect the motor, quiet noise level at merely 69dB, no-rust polypropylene tank, compact design, large wheels, water level shut-off sensors, drain valve, 26-foot cord, wand storage, removable push handle, carry handle and soft start. The 3931 vacuum comes complete with a 35mm 9.85-foot hose with locking attachment, two filter cartridges and a dust bag.

In addition to the many tool-specific "Airsweep" dust extraction accessories Bosch already offers, a wide array of new Bosch vacuum cleaner accessories are also available. They include:

VAC001 Hose - 15 foot, 19mm hose connects Bosch hammer, sander and jigsaw tools and accessories.

VAC002 Adapter - Connects tools that have ports for 35mm hoses to the nozzles of 1-1/4-inch or 1½-inch hoses.

VAC003 Adapter - Connects tools that have ports for 1-1/4-inch hoses to 35mm hoses.

VAC004 Adapter- Connects tools that have ports for 2-½-inch hoses to 35mm hoses.

VAC005 Hose - 35mm 16.4-foot hose with standard 2-1/4-inch vacuum cleaner interface.

VAC006 Hose - 35mm 16.4-foot hose that locks onto 3931.

VAC007 Hose - Anti-static 35mm 9.85-foot hose that locks onto 3931.

VAC008 Hose - Anti-static 35mm 16.4-foot hose that locks onto 3931.

VAC009 Hose - Anti-static 19mm 9.85-foot hose that locks onto 3931.

VAC010 Hose - Anti-static 19mm 16.4-foot hose that locks onto 3931.

VAC011 Wand Kit -Vacuum accessory kit fits 3931 vacuum and 1-½-inch non-Bosch hoses. Includes two straight wands and one curved wand, one floor set nozzle with smooth floor, carpet and squeegee inserts, one crevice tool nozzle and one brush nozzle.

VAC012 Replacement Filter Cartridges -Two in pack.

VAC013 Dust Bag - Five in pack. For fine dust environments.

VAC014 Wire Basket - Stores accessories on the 3931 vacuum.

VAC015 Universal Floor Nozzle

VAC016 Floor Nozzle Set

VAC017 Crevice Tool

VAC018 Brush

VAC019 HEPA Filter Cartridges - Two in pack, Capture 99.997% of particles 0.3 microns in diameter

About Bosch Power Tools

Bosch Power Tools is one of the divisions within the $1 billion, 5,000 employee strong Robert Bosch Tool Corporation, which is the North American branch of the largest power tool manufacturer in the world, Robert Bosch GmbH. Bosch Power Tools provides a diverse line of corded and cordless power tools that withstand the tough rigors of any jobsite and allow professionals to take control of their work. For more information, call toll free 877-BOSCH-99 (877-267-2499) or visit www.boschtools.com.

Beth Karkosak
Robert Bosch Tool Corporation
(773) 481-7294
beth.karkosak@us.bosch.com

More from Electronic Components & Devices