Well Suspension Plug ensures gas-tight seal.
Press Release Summary: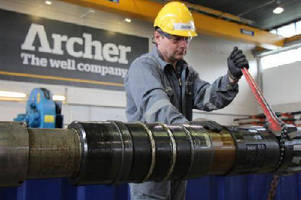 Designed for suspension operations in deepwater markets, ISO 14310 V0-rated STORMLOCK includes 10,000 psi ball valve qualified in accordance with ISO 28281. Although plug is able to support up to 300 tons of pipe, it does not require weight below so it can be set shallow, deep, and even in horizontal sections and in non-storm applications. Plug can be repositioned and reset any number of times if well conditions present challenges.
---
Original Press Release:

Archer Launches STORMLOCK-ISO14310 V0 Rated Gas-tight Storm Plug Technology for the Gulf of Mexico.



NEW ORLEANS -- Archer, the global oilfield service provider, has released STORMLOCK--an ISO 14310 V0-rated, gas-tight storm plug specifically designed for suspension operations in the Gulf of Mexico and other deepwater markets. STORMLOCK is being launched at Archer's booth 435 at ATCE 2013 in New Orleans where a 10?3/4" STORMLOCK is on display.



STORMLOCK is the latest addition to Archer's family of well suspension plugs, the LOCK series, which provides the assurance of an absolute seal independently certified as gas tight under ISO 14310 V0. The technology includes 10,000 psi rated ball valve qualified in accordance with ISO 28281.



Rolf Egil Haland, President of Archer's well integrity products and Oil Tools Division, said "When sealing wells for suspension or abandonment barrier failure can prove disastrous for rig teams, the local environment and an operator's reputation. Storm suspension brings additional challenges. Wells need to be sealed safely, rapidly and securely, even with a full drill string in the hole. And when the storm hazard passes, operators need to resume drilling without delay. STORMLOCK provides all of these benefits.



"We have been working hard to expand our well-integrity technology offerings and believe STORMLOCK is the most versatile suspension plug in its class. It has been engineered to support up to 300 metric tons of pipe and its enhanced seal technology  provides a safe, gas-tight solution for short or long suspension periods, harsh conditions and, of course, storms."



"Further benefits include rapid deployment, easy retrieval, efficient use of rig time and flexibility in terms of depth and deviation. Although it is able to support up to 300 tons of pipe, it does not require weight below to set so it can be set shallow, deep and even in horizontal sections and in non-storm applications. This eliminates the time and cost associated with drill pipe deployment."



"If well conditions present challenges, the plug can be repositioned and reset any number of times. Retrieving the plug is fast and reliable, its 100% retrieval pedigree and built-in millability means no delays before starting the next operation. When you look at the Gulf of Mexico in terms of complexity, the often severe weather conditions and the level of operations going on, a technology which offers security, high efficiency and low operating costs is an ideal solution."



During more than 1,000 deployments in the world's toughest well environments, the LOCK series has established an enviable reputation for security, efficiency and reliability. The technology and engineering have evolved from Archer's groundbreaking and outstandingly successful Peak VMB, which was the world's first gas-tight, zero leakage barrier plug.



The LOCK series comprises four application-specific products--SAFELOCK, for short- to medium-term suspension periods; TIMELOCK, for long-term suspension or harsh conditions; LASTLOCK, for total security in permanent well abandonment and now STORMLOCK, for storms, extended periods or harsh conditions.



Archer specializes in well integrity and intervention products and services, unconventionals and production drilling. The company employs over 8,300 personnel through 118 global locations with key regional bases in the North Sea, Middle East, Asia, and North and Latin Americas.



CONTACT: Yvonne Devine - PR and Media Manager, Archer, T (+44) 01224 767514 / (+44) 7850 794545, Yvonne.Devine@archerwell.com



Web Site: http://archerwell.com

More from Non-Industrial Products