Welding Torch features low profile design.
Press Release Summary: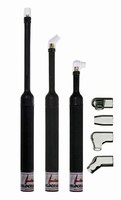 Model MT-125 water-cooled micro TIG welding torch features low profile nozzle to fit into 5/8 in. dia holes, and offers body length options of 2, 3.5, and 5 in. with 45, 90, or 180° head configurations. It uses replaceable silicone rubber insulating sleeve and head components, and requires 1 lpm of water at min pressure of 40 psi, and 1.2 lpm of water at max pressure of 50 psi. Torch is rated up to 125 A at 100% duty cycle, and optional 160 A quartz nozzle is available.
---
Original Press Release:

Weldcraft Introduces MT-125, Industry's Smallest Micro TIG Torch



Weldcraft Offers Patented, Highly Ergonomic Micro TIG Torch
o Features low profile design
o Rated at 125-amps, 160-amps with optional quartz nozzle
o Available in multiple head configurations

APPLETON, Wis. 14 February 2006 - To improve performance on precision applications, Weldcraft offers its patented MT-125, the industry's most compact water-cooled micro TIG welding torch. The MT-125 is ideal for TIG welders who work on limited access joints or who prefer an overall smaller torch size for better ergonomics. The MT-125 features a low profile nozzle that can fit into 5/8-inch diameter holes and for even greater torch maneuverability, includes 2-, 3.5- and 5-inch body length options along with 45-, 90- or 180-degree head configurations.

Small Package, High Performance

Rated at 100 percent duty cycle up to 125 amps, the MT-125 gives operators the ability to weld on virtually any TIG application, especially those with limited access joints. "The MT-125 offers tremendous welding capacity for a multitude of applications," says Mike Sammons, sales and marketing manager, Weldcraft. "A lot of TIG welders - hobbyists and professionals - have longed for a truly compact, high amperage TIG torch. The MT-125's low profile head design allows welders to work in tight spaces that were previously difficult to reach."

To boost welding capacity to 160 amps, Weldcraft offers optional high amperage quartz nozzles and 3/32-inch chucks to accommodate larger diameter tungsten. Compatible tungsten sizes include .040-, 1/16- and 3/32-inch diameters, and depending on the model, include either 12.5- or 25-foot cable lengths.

To lower maintenance and operational costs, the MT-125 uses a replaceable silicone rubber insulating sleeve and head components. The MT-125 requires only 1 liter of water per minute (.95 quarts per minute) at a minimum pressure of 40 PSI or 1.2 liters of water per minute (1.14 quarts per minute) at a maximum pressure of 50 PSI.

For more information, contact Weldcraft at 800-752-7620 or 920-882-6800; fax: 920-882-6840; visit weldcraft.com; e-mail customerservice@weldcraft.com or write to Weldcraft Customer Service, 2741 N. Roemer Road, Appleton, WI 54911.

Weldcraft is the world's leading manufacturer of GTAW (TIG) welding torches and accessories. A broad line of premium products includes the unique Crafter Series, Legacy(TM) Series, MicroTig,(TM) Quick Connect System,(TM) WP Series, and Single Piece Collet/Collet Body. Weldcraft is a wholly owned subsidiary of Illinois Tool Works Inc. (ITW), Glenview, Ill. ITW is a diversified multinational manufacturer of highly engineered components, assemblies and systems.

More from Mechanical Components and Assemblies