Welding System offers push-pull wire welding module.
Press Release Summary: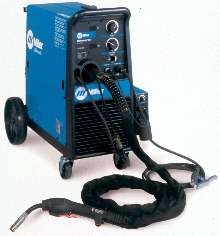 Millermatic® 251 welding system is offered with wire welding module that mounts directly to side of unit, enabling 12 in. spools of aluminum wire with .035 or .047 in. dia to be run on internal wire system. System permits unit to connect directly to XR-Edge and XR-A pistol guns with 15 or 30 ft cables. Push-pull design allows for consistent feeding of aluminum wire by providing constant torque to wire at power source and constant wire feed speed at gun.
---
Original Press Release:
Got Reach? Push-Pull Wire Welding Module Makes Millermatic® 251 Efficient, Cost Effective Aluminum Option
o Field upgrades available for older Millermatic 251 models o Cost savings substantial with reduced labor, material costs o Only all-in-one 250 amp MIG power source with 12-in. aluminum spool capacity APPLETON, Wis., Feb. 14, 2003 - For MIG welding aluminum in light manufacturing and fabrication, Miller introduces a Push-Pull Module that is compatible with the Millermatic® 251 all-in-one MIG welding system. Mounted directly to the side of the Millermatic 251, this module enables large 12-in. spools of aluminum wire to be run on the internal wire system. Compared to the 1-lb. spools of wire used for welding aluminum with spool guns, the ability to use an industrial sized spool saves on the labor involved with changing spools as well as tip and wire consumption. This is the only system that permits Miller's popular Millermatic 251 to connect directly to Miller's XR-Edge and XR-A pistol guns with either 15-ft. or 30-ft. cables. Designed specifically for long aluminum welds, these guns are ergonomically designed, can control wire feed speed without returning to the power source and are capable of welding in hard to reach places. This is an extremely cost effective system that saves thousands of dollars compared to industrial systems used for MIG welding aluminum. The push-pull design allows for a more consistent feeding of aluminum wire by providing constant torque to the wire at the power source and constant wire feed speed at the gun. This tension ensures a smooth feed without bird-nesting and burnback, and wire feeding consistency throughout the length of the weld. Designed to push aluminum wires .035 in. or .047 in. in diameter, this unit can be purchased new with the Millermatic® 251 or added on with the field upgrade kit available through Miller. Cost Savings Depending on your level of use, the cost savings associated with this system could be substantial. When welding aluminum, the tip often needs replacing at the end of each roll due to burnback. If you're dealing with a larger spool of wire (12-in. roll vs. 1-lb. roll), those instances will be greatly reduced. Labor costs are driven down as operators will spend more time welding and less time changing out finished spools. Per pound, a larger wire spool costs $.70 less than 1-lb. spools, decreasing wire consumption costs. The Millermatic 251 Push-Pull Module is covered by Miller's True-Blue® three-year factory warranty. To download a product spec sheet, visit Miller's website at MillerWelds.com. For more information or the Miller distributor nearest you, call 800-4-A-MILLER (800-426-4553), e-mail info@millerwelds.com, fax 877-327-8132, visit the website or write to Miller Electric Mfg. Co., P.O. Box 100, Lithonia, GA 30058. With headquarters in Appleton, Wis., Miller Electric Mfg. Co. is a leading worldwide manufacturer of Miller and Hobart brand arc welding equipment and related systems for metalworking, construction, maintenance and other applications. Miller Electric is a wholly owned subsidiary of Illinois Tool Works Inc. (ITW), Glenview, Ill. ITW is a diversified multinational manufacturer of highly engineered components, assemblies and systems.
More from Electronic Components & Devices