Welding System is suitable for use by metal fabricators.
Press Release Summary: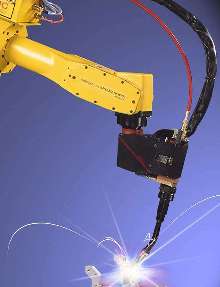 Model 3M3 ARC Mate system is equipped with ServoTorch 4-roll wire feeder and dual-arm controller that combines 2 ARC Mate 100iB robots with one R-J3iB Controller. Dual-arm control permits coordinated motion between robots and headstock positioners. System's servomotor provides unassisted wire feeding from spools or motor assisted pay-off packs. Able to provide consistent wire feeding, system utilizes Arclink robotic arc welding network for control of arc welding processes.
---
Original Press Release:

FANUC Robotics Unveils New ARC Mate System 3M3 and ServoTorch at IMTS 2002


CHICAGO, Sept. 4, 2002 -- FANUC Robotics North America, Inc. will introduce its new ARC Mate System 3M3 at IMTS 2002 at the McCormick Center in Chicago in the East Hall, booth #4202 (shared with GE Fanuc). The ARC Mate System 3M3, equipped with the new ServoTorch wire feeder and dual-arm controller, offers metal fabricators a powerful, flexible, and easy-to-use arc welding solution.

The dual-arm controller combines two ARC Mate robots with one R-J3iB Controller, requiring only one teach pendant to control the entire welding system. With dual-arm control, the system is able to achieve coordinated motion between the robots and headstock positioners, saving manufacturers the time and expense required by systems with two independent single-arm controllers.

"By streamlining the process, we've helped production personnel cut valuable time to create and maintain programs," said Mike Sharpe, FANUC Robotics' manager of materials joining. "The system is also extremely easy to use because we've eliminated I/O handshaking and reduced program structure requirements."

At the show, the ARC Mate System 3M3 will use two ARC Mate 100iB robots in a dual-arm configuration. Each robot will be equipped with the new ServoTorch wire feed system and a Lincoln Electric F355i power supply. A pneumatic index table with two headstock positioners will manipulate the parts in front of both robots. The demonstration will highlight the system's flexibility, ease-of-use and capability to increase arc-on-time.

FANUC Robotics' new ServoTorch is a fully integrated, four-roll wire feeder controlled by the ARC Mate series robots. The FANUC high-torque servomotor provides unassisted wire feeding from conventional spools or motor assisted pay-off packs. The ServoTorch reduces weld wire push lengths, resulting in increased reliability for aluminum and soft wire welding processes.

"Compared to third-party wire drives, ServoTorch is a much better value," said Sharpe. "It eliminates the cost of external wire feeders and provides consistent wire feeding, which is essential for successful arc initiation of soft wire Mig/Mag processes."

The tight control between ServoTorch and the robot is further enhanced with Arclink. Arclink is the world's only robotic arc welding network. A co-development with Lincoln Electric, Arclink provides robust, high-speed control of the arc welding process. Arclink offers a common user interface through the robot teach pendant, providing CV and pulse welding control.

The ARC Mate 100iB is FANUC Robotics' latest generation arc welding robot. It features a compact design with improved motion range and speed over previous models. The compact and flexible design simplifies installation, maximizes reach capability within confined areas and enables high-density installation of robots and peripherals

The six-axis ARC Mate 100i B offers a payload capacity of 6 kg and is exclusively designed for arc welding and cutting applications. It sports a compact wrist for easy reach. The R-J3i B Controller and easy-to-use ArcTool software, standard with the ARC Mate series of robots, provide reliable performance with high productivity.

The motion envelope of the arm includes that of the previous model and has 8% larger horizontal stroke. This large motion envelope enables the robot to weld larger parts, such as frames of automobiles, trucks and construction machines. The wrist size is also 19% smaller, enabling the robot to enter into smaller openings in parts and eases tooling design. The robot joint speed is significantly faster, making the cycle time shorter.

FANUC Robotics North America, Inc. designs, engineers and manufactures innovative robots and robotic systems for a wide range of industries and applications. After 20 years of success, FANUC Robotics maintains its position as the leading robotics company in North America. A subsidiary of FANUC Ltd. in Japan, the company has facilities in Chicago; Los Angeles; Charlotte, N.C; Cincinnati and Toledo, Ohio; Toronto; Montreal; Mexico City; Aguascalientes, Mexico; and Sao Paulo, Brazil. FANUC Robotics can be found on the Internet at www.fanucrobotics.com or by calling 800-47-ROBOT.


More from Fluid & Gas Flow Equipment