Welding Power Sources deliver single-phase power.
Press Release Summary: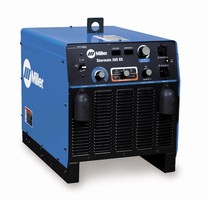 Shopmate(TM) Models 300 and 300 DX welding power sources feature range of 5-400 A (250 A at 60% duty cycle) and operate under single-phase power (208/230 Vac or 230/460/575 Vac). Model 300 DX operates in CV (MIG, FCAW) and CC mode (DC TIG and Stick), and includes process selector switch. While 300 model is CV-only, both models offer inductance arc control for MIG welding. Welders include 10- or 14-pin connectors, and internal fan turns on only when needed.
---
Original Press Release:

Shopmate Provides Multi-Process Versatility, Single-Phase Convenience



o Easy to switch between Stick, TIG and MIG welding

o Arc Control provides advanced, yet simple control over weld bead shape

Appleton, Wis., July 24, 2006--With the new Shopmate(TM) 300 DX welding power source, Miller Electric Mfg. Co. (www.MillerWelds.com) combines powerful multi-process welding capabilities and sophisticated yet easy-to-understand controls with the convenience of single-phase power (208/230 VAC or 230/460/575 VAC). The Shopmate 300 DX provides exceptional arc performance in CV mode (MIG, FCAW) and CC mode (DC TIG and Stick) while the new Shopmate 300 is a CV-mode-only power source (www.millerwelds.com/products/multiprocess/shopmate_dx/).

With a range of 5 to 400 amps (250 amps at 60 percent duty cycle) and easy-to-use but powerful weld controls previously only available on more expensive, three-phase machines, the Shopmate was designed to meet the needs of users who require versatility, ease-of-use and arc quality at an affordable price. These include MRO, RV and trailer manufacturing and other light industrial, educational and farm applications.

"Fab shops and other companies that may need to weld different materials or require different processes will certainly appreciate the Shopmate 300 DX's versatility," says Chris Roehl, product manager, Miller Electric. "Switching between processes is as easy as turning a knob and connecting the right torch, stinger or gun. One knob allows you to tune-in the arc quickly and easily. Plus, it's a single-phase power source, so you don't have to add three-phase wiring to get quality weld performance."

For MIG welding, both models offer advanced inductance Arc Control, allowing the operator to easily adjust the weld bead profile and "wetness" of the weld puddle. Operators only have to set the selector to the wire type being used: Steel, Stainless Steel or Aluminum. Operators can also fine-tune the weld puddle characteristics to their specific needs or preferences.

The Shopmate 300 DX adds an operator-friendly selector switch for easy switching between processes.

In Stick mode, the Shopmate 300 DX's Arc Control adjusts the arc Dig according to the type of electrode being used. For a 7018 electrode, commonly used for structural steel welding, the operator can turn the Arc Control dial to the middle of the scale labeled "7018" and then fine-tune the arc dig to their liking. The other end of the Arc Control dial allows the operator to adjust arc dig for 6010 electrodes, commonly used for pipe welding. Arc dig for other types of electrodes can be adjusted by simply turning the control somewhere between these two settings.

In TIG mode, Lift-Arc TIG(TM) allows DC/TIG starting without using high frequency or contaminating the weld with tungsten, reducing weld defects and prolonging tungsten life.

The two welders also feature a built in 10-pin connector for direct hook-up of Spoolmatic® 15A and 30A spool guns for and a 14-pin connector for direct connection to Miller wire feeders and accessories, such as remote amperage controls for TIG welding.

Both models feature Miller's exclusive Fan-On-Demand(TM), which reduces noise, airborne particulate matter and power consumption by turning the internal fan on only when it is needed. Miller's Line Voltage Compensation (LVC(TM)) keeps output power constant throughout variations in input power by up to ten percent, creating a more consistent, predictable arc. These rugged units also feature a solid state output contactor control, which eliminates the maintenance issue of replacing mechanical output contactors.

A full line of optional accessories completes the Shopmate line-up of welding equipment, including running gear, spool gun kits, wire feeders and remote controls, giving welders the flexibility to customize the welders to their specific needs.

The Shopmate welders are covered by Miller's True Blue® 3-year factory warranty and will be available for purchase nationwide beginning in July 2006. For information about the Shopmate series or any other Miller welding products, visit www.MillerWelds.com, call 1-800-4-A-Miller (1-800-426-4553) or write to Miller Electric Mfg. Co., P.O. 100, Lithonia, GA 30058.

With headquarters in Appleton, Wis., Miller Electric Mfg. Co. is a leading worldwide manufacturer of Miller arc welding equipment and related systems for metalworking, construction, maintenance and other applications. Miller Electric is a wholly owned subsidiary of Illinois Tool Works Inc. (ITW), Glenview, Ill. ITW is a diversified multinational manufacturer of highly engineered components, assemblies and systems.