Welding Machine supports TIG and stick processes.
Press Release Summary: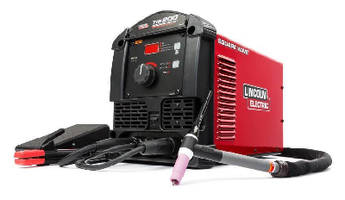 With Square Wave® TIG 200, users can perform AC TIG welding on aluminum and DC TIG welding on steel, stainless, and chrome-poly when precision and bead appearance are important. Users can also switch to stick welding when working with thicker materials or welding outdoors. TIG output range is 10-200 A when operating on 230 V input and 10-125 A when operating on 120 V input. Stick output ranges are 10-170 A and 10-90 A when operating on 230 V and 120 V input, respectively.
---
Original Press Release:
Lincoln Electric's New Square Wave® TIG 200 Gives Craftsmen, Small Shop Fabricators, Motorsports Enthusiasts and Hobbyists a User-Friendly, Multi-Process Machine with a Simple User Interface
New welding machine offers TIG and stick processes

Cleveland – The new Square Wave® TIG 200 welding machine from Lincoln Electric offers a multi-process TIG and stick welding experience for craftsmen, small shop fabricators, makers, motorsports enthusiasts and hobbyists. Users can perform AC TIG welding on aluminum and DC TIG welding on steel, stainless and chrome-moly when precision and bead appearance are important. Users can also switch to stick welding when working with thicker materials or welding outdoors.

The Square Wave TIG 200 combines an easy-to-use interface for fast set up with built-in advanced features. A pulsed TIG feature provides a drumbeat-like rhythm for filler metal deposition, making you a better welder – faster. AC frequency control allows users to adjust the machine for a wider or more narrow arc profile when TIG welding on aluminum. Adjustable AC balance provides more cleaning action on aged aluminum and helps maximize penetration on thicker aluminum materials.

The Square Wave TIG 200 truly allows you to Take it Everywhere, Plug in Anywhere™.
Portable and convenient to use, the machine plugs into standard 120V or 230V input circuits and weighs only 46 pounds (21 kilograms). The TIG output range is 10-200 amps when operating on 230V input, and 10-125 amps when operating on 120V input. The stick output range is 10-170 amps when operating on 230V input, and 10-90 amps when operating on 120V input.

Included with the machine is just about everything a user needs to get started:
PTA-17 Series, 150-amp, air-cooled TIG torch with flexible head and Ultra-Flex™ cable assembly and TIG torch parts
Foot Amptrol™
Regulator/flowmeter with gas hose
Stick electrode holder
Ground clamp
120/230V input cables

For more information, view brochure E3.38 on www.lincolnelectric.com.

Lincoln Electric is the world leader in the design, development and manufacture of arc welding products, robotic arc welding systems, plasma and oxyfuel cutting equipment and has a leading global position in the brazing and soldering alloys market. Headquartered in Cleveland, Ohio, Lincoln has 47 manufacturing locations, including operations and joint ventures in 19 countries and a worldwide network of distributors and sales offices covering more than 160 countries. For more information about Lincoln Electric and its products and services, visit the company's website at www.lincolnelectric.com.

Media Contacts:
Greg Coleman 
greg_coleman@lincolnelectric.com 
216.383.2462
More from Sensors, Monitors & Transducers