Welding Helmet includes Auto-On feature.
Press Release Summary: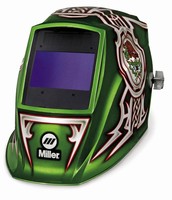 Featuring 1/20,000 sec reaction time, Mexican Flag helmet does not need on/off switch, eliminating arc flash caused by forgetting to turn it on. Grinding Mode function keeps helmet in #4 light state, providing continuous UV and IR protection, and prevents darkening of lens from grinding sparks. Weighing 18 oz, helmet includes 4 arc sensors, replaceable batteries with solar assist (30,000 hr on MIG), and handles DC Inverter and TIG applications up to 5 A.
---
Original Press Release:
Miller Answers Strong Demand for New Welding Helmet
o Red, white, green accented Mexican Flag design with eagle, serpent, cactus crest o Features new Auto-On and Grind Mode lens technology APPLETON, Wis., September 28, 2006-In response to popular demand, welding leader Miller Electric Mfg. Co. has introduced a new auto-darkening welding helmet inspired by the design of the Mexican Flag. Sporting a bright green metallic finish, the new helmet features bold red and white accents forming an ornamental design that scrolls around the surface. The eagle, serpent and cactus crest is dramatically framed and highlighted on both sides. The Mexican Flag helmet is the first to feature Miller's new Auto-On and Grind Mode lens technology. The addition of the Mexican Flag helmet rides on the popularity of the Canadian Maple Leaf and the Stars and Strips. "This is a professional, very capable, full-featured helmet with a beautifully executed design," states Tom Sommers, product manager, Miller Electric Mfg. Co. "We coupled the Auto-On and Grind Mode with The Elite Performance Series(TM) lens to meet consumer demand for safety, but we did it with a personalized touch, professional-grade features and excellent value." Available to the US and Canadian markets exclusively through Miller welding distributors, the Mexican Flag Elite helmet is competitively priced at $329, reference stock #229586. New Auto-On and Grind Mode Tired of getting arc flashed by forgetting to turn on the helmet? The new Auto-On feature, eliminates the need for an on/off function; the helmet is always ready to weld, but still conserves battery life. The helmet's #4 ultra-clear "light-state" makes setup and repositioning of hands and parts more efficient while also providing continuous UV and IR protection. A new Grinding Mode function keeps the helmet in the #4 light state and prevents darkening of the lens from grinding sparks and meets ANSI Z87.1 and CE/CSA impact standards. In the near future, the new Auto-On feature and Grind Mode will be available to Miller's helmet models in the Elite, XLix and XLi series. Other benefits include a lightweight design (about 18 oz.) that increases comfort during long days of welding and a Performance Series' lens that has four independent arc sensors to provide outstanding performance in all welding processes. The Mexican Flag Elite helmet lens features replaceable batteries with solar assist for exceptionally long life (3,000 hours on MIG) with no recharging required. The helmet can easily handle low-amperage DC Inverter and TIG applications (5 amps and below) and has a reaction time of 1/20,000 of a second. Like all Elite series helmets, the Mexican Flag model comes complete with five outside and two inside replacement cover lenses, and an exclusive fatigue-reducing comfort cushion and helmet bag; a combined value of $25.00. Miller Auto-Darkening Helmets are covered by a 2-year warranty. For more information or to download a product spec sheet, visit Miller's Web site at www.MillerWelds.com, call 1-800-4-A-MILLER (800-426-4553), e-mail info@millerwelds.com, fax 877-327-8132, or write to Miller Electric Mfg. Co., P.O. Box 100, Lithonia, GA 30058. With headquarters in Appleton, Wis., Miller Electric Mfg. Co. is a leading worldwide manufacturer of arc welding equipment and related systems for metalworking, construction, maintenance and other applications. Miller Electric is a wholly owned subsidiary of Illinois Tool Works Inc. (ITW), Glenview, Ill. ITW is a diversified multinational manufacturer of highly engineered components, assemblies and systems.
More from Electronic Components & Devices