Weldcraft Air-Cooled Torches Excel on Heavy-Duty TIG Applications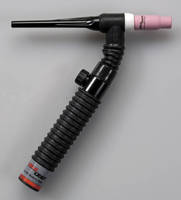 o Provides 200 amp air-cooled capacity

o Flexible neck, gas control valve options available

o Optional accessory kits, cable covers and extension kits

APPLETON, Wis. - To improve durability and comfort on continuous, heavy-duty TIG welding applications, Weldcraft offers its WP-26 family of hand-held air-cooled torches. The WP-26 family consists of five torch models, including flex-neck, valved and pencil-style versions. All WP-26 torches are rated to 200 amps DC or 150 amps AC at 60 percent duty cycle.

The WP-26 torches all feature reliable air-cooling capabilities that eliminate the need and expense of water-cooled systems, along with heavy-duty copper construction that provides maximum conductivity and durability under demanding conditions. Models with an optional gas control valve on the handle (WP-26V and WP-26FV) allow welding operators to tune in the ideal gas flow for superior weld puddle coverage. Optional flexible neck models (WP-26F and WP-26FV) adjust to any angle, making them ideal for awkward positioning and difficult to access joints. A pencil-style torch (WP-26P) is also available for very confined joints, or for automated applications.

Each WP-26 torch can accommodate tungsten electrodes from .020-in. - 5/32-in. (0.5 - 4.0mm). A variety of accessories, including cable covers, conversion kits and power cable adaptors are also available for each WP-26 torch.

For more information, contact Weldcraft at 800-752-7620 or 920-882-6800; fax: 920-882-6840; visit weldcraft.com; e-mail customerservice.com or write to Weldcraft Customer Service, 2741 N. Roemer Road, Appleton, WI 54911.

Weldcraft is the world's leading manufacturer of GTAW (TIG) welding torches and accessories. A broad line of premium products includes the unique Crafter Series, WP Series, MicroTig(TM) and Quick Connect System(TM).