Weld Seam Detector handles tubes from 5-500 mm dia.
Press Release Summary: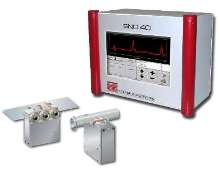 Combining digital signal analysis and eddy current technology, PC-based Model SND40 offers graphical user interface with touchscreen, as well as Fieldbus and Ethernet interfaces. It is suitable for tubes made of all metals and is largely independent of tube wall thickness. Detector handles difficult positioning tasks in tube bending machines, hydroforming presses, and other tube processing machines.
---
Original Press Release:
Innovative Weld Seam Detector SND40 for tubes

The new Weld Seam Detector SND40 made by ROLAND ELECTRONIC features a combination of magnetric flux leakage and eddy current technology.

The weld seam detection in tubes is still demanding task. Improvements in the welding technology and special treatments like drawing, annealing and straigthening lead to more and more homogenous weld seams. The resulting reduced signals of the seams can only be used for the reliable positioning of the tubes when appropriate sensors and digital signal analysis are applied.

The new SND40 offers as the first unit on the market a combination of digital signal analysis and eddy current technology developed according to the special requirements of weld seam detection. The alternative use of the well proven flux leakage sensors and new optical sensors make this system a highly flexible Weld Seam Detector. The SND40 can handle difficult positioning tasks in tube bending machines, hydroforming presses and other tube processing machines.

The PC-based unit offers a graphical user interface with a touchscreen and modern interfaces (fieldbus, ethernet). It can used for tubes made of all metals with a diameter ranging from 5 to 500mm and is largely independent of the tube wall thickness.

ROLAND ELECTRONIC GmbH

Otto-Maurer-Strasse 17

75210 Keltern

Herr Gebhard

Tel: 07236-9392-18

Fax:07236-9392-33

gebhard@roland-electronic.com
More from Electronic Components & Devices