Weld Pad Gages suit ASME code installations.
Press Release Summary: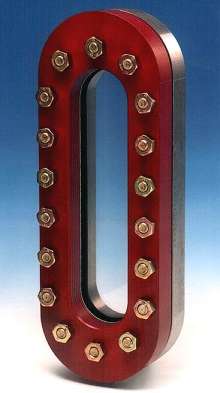 Obround Weld Pad Gages consist of weld pad, glass window, gaskets, cover flange, and bolting. Standard materials of construction include 316L stainless steel and carbon steel, with gasket materials of EPDM and Viton®. Glass window is tempered borosilicate glass, which is resistant to chemical attack, and thermal and mechanical shock. Models provide visible glass sizes ranging from 1 in. wide x 6 in. long to 4 in. wide x 24 in. long. They are designed for working pressure of 150 psi at 500°F.
---
Original Press Release:
Obround Weld Pad Gages Improved Through Use of Modern Materials

The use of modern alloys and gasketing materials make the extensive line of obround weld pad gages from L.J. Star more broadly applicable and more reliable than ever before. The gages are of the classic design, consisting of a weld pad, glass window, gaskets, cover flange and bolting. The obround glass window is clamped in place against the welding pad by a gasketed glass cover flange held by threaded studs and nuts. For mounting on curved surfaces such as tanks or reactors, the welding flange can be factory machined to fit any required diameter.

Standard materials of construction now include 316L stainless steel as well as carbon steel, with standard gasket materials of EPDM and Viton®. Available options include a variety of other alloys and a choice of silicone, rubber, TFE and non-asbestos gaskets. The glass window itself is tempered borosilicate glass, a formulation that is highly resistant to chemical attack and to both thermal and mechanical shock as well. For exceptionally high temperature applications, quartz glass windows are available. Glass protection shields are another option and an acrylic window version is offered for water service.

The 14 standard models in the line provide visible glass sizes ranging from 1 inch wide by 6 inches long to 4 inches wide by 24 inches long. They are suitable for ASME code installations and are designed for a working pressure of 150 psi at 500°F (260°C)

To obtain additional information, contact L.J. Star Incorporated, P.O. Box 1116, Twinsburg, OH 44087. Phone: 330-405-3040. Fax: 330-405-3070. Email: view@ljstar.com. Or visit our web site: www.ljstar.com
More from Communication Systems & Equipment