Weld-On Plate enhances John Deere 500 Series loader functionality.
Press Release Summary: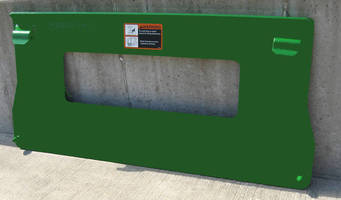 Measuring 49.38 x 22.85 in., John Deere 500 Series Weld-on Plate is formed from 5/16" steel, designed to be welded to existing attachments, and interfaces with John Deere 500 Series loaders that use JD attaching system. Features, including steel cast upper hooks and welded locking pins spaced to OEM specifications, ensure proper fit when welded to buckets or attachments.
 
---
Original Press Release:
New Weld-On Plate for John Deere 500 Series Loaders
The John Deere 500 Series Weld-on Plate is now available from Worksaver, Inc., a new addition to its current line of weld-on plates and kits.  Designed to be welded to existing attachments, this plate interfaces with John Deere 500 Series loaders that use the JD attaching system.  Formed from 5/16" steel, other features include steel cast upper hooks and welded locking pins spaced to OEM specifications to ensure a proper fit when welded to buckets or attachments.  The John Deere 500 Series Weld-on Plate measures 49.38" x 22.85".

Worksaver, Inc. is a manufacturer of agricultural, industrial, commercial and construction equipment for a variety of applications for property owners, farmers, ranchers, contractors and many others.  A variety of equipment is able to fit skid steers and front loaders and tractors.

For more information, contact:
Worksaver, Inc.
P.O. Box 100
Litchfield, IL 62056-0100 
Phone: 217-324-5973
Fax: 217-234-3356 
Website: http://www.worksaver.com/weld-on-plates-and-kits
E-mail: sales@worksaver.com
More from Mechanical Power Transmission