Cleaning Compounds and Chemicals
Weld Nozzle Cleaning System operates on 90-125 psi shop air.
Press Release Summary: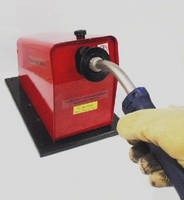 Designed for use in production welding shops, Sentry Nozzle Pro-2 safely removes weld splatter from gas shield nozzle and contact tip of handheld MIG welding guns in less than 5 seconds. Standard system may be bench mounted or is available with optional floor stand. Measuring 12 x 8 x 9 in., system can be used with all brands of MIG welding guns and is compatible with all nozzle and contact tip combinations.
---
Original Press Release:
Weld Nozzle & Contact Tip Cleaner for Hand Held Mig Welding Guns
The "Sentry" Nozzle Pro-2 (NZP-2) is an economical, air powered, weld nozzle cleaning system designed for use in production welding shops to safely and economically remove weld spatter from the gas shield nozzle and contact tip of hand held Mig welding guns. The system can be used with all brands of Mig welding guns and is compatible with all nozzle and contact tip combinations. Spatter removal is completed in less than 5 seconds. The standard system may be bench mounted or is available with an optional floor stand. The "Sentry" NZP-2 nozzle cleaning system lowers welding costs by reducing welders "down time" and increasing torch and consumable parts life. The small size allows for installation in any work area. Operation is convenient, fast and easy. Trim welding wire - Then insert the welding gun nozzle end into the cleaning tube. Firmly press forward to activate and hold for 2 to 5 seconds. Remove the welding gun to shut down. Requires clean, dry, lubricated shop air at 90 - 125 psi required for operation. Dimensions 12"L x 8"w x 9"H Weight 9.5 lbs. For additional information contact: Arndt Enterprise Ltd. Tel: 847-234-5736 Website: www.ae-welding-industrial.com Email: info@ae-welding-industrial.com
More from Fluid & Gas Flow Equipment