Weiler to Introduce New Product Offerings at FABTECH 2016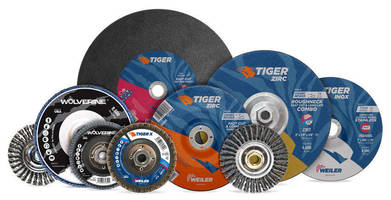 Attendees of FABTECH can explore a variety of product offerings and product line upgrades at booth N3704



CRESCO, Pa. — Weiler Abrasives Group, a leading provider of abrasives, power brushes, and maintenance products for surface conditioning announced it will attend FABTECH 2016 in Las Vegas, November 16 to 18 at booth N3704 at the Las Vegas Convention Center. The company will showcase a variety of new products, product line upgrades and expanded offerings, and will have representatives available to answer weld preparation and cleaning questions.



New products to be displayed include:



Roughneck Max Stringer Bead Wheels: The new Roughneck Max 4-inch Carbon Steel and Stainless Steel brushes have been upgraded to deliver 40 percent more cleaning power than the closest competitor. The stronger, sharper and more breakage-resistant wire and improved knot design provide up to twice the brush life, along with smooth and responsive operation. The wheels also require 20 percent less pressure to clean with compared to competitive brushes, helping to reduce operator fatigue.



Expanded Line of Bonded Abrasives: The expanded line of Tiger® bonded abrasives provides welding and fabrication professionals with a wider breadth of solutions for their most demanding grinding and cutting needs. New options include:




Roughneck® combo wheels, ceramic-infused for fast grinding and extended life, are thicker than the current pipeliner wheels and are designed to switch between cutting and grinding applications on the pipeline.



Two new Type 28 grinding wheels, designed for hard-to-reach areas, such as corners fillets. They feature a saucer-shape design that allows for aggressive grinding at lower angles and with less interference.



Tiger X Flap Discs: By combining aggressive grinding and long disc life, the Tiger X flap discs allow users to increase productivity — at a lower cost. An X3 industry-exclusive technology combines a triple split coat grain anchoring system, dual flap design and engineered abrasive cloth backing with intermixed ceramic alumina and zirconia alumina grain. The result is a more versatile disc that requires less force, reducing operator fatigue.



Wolverine Flap Discs and Stringer Bead Wheels: The Wolverine line, previously known as Vortec Pro®, offers professional grade quality and performance at a great value.





Wolverine flap discs are designed to deliver aggressive grinding and consistent performance. The improved design provides up to 25 percent more life over the previous Vortec Pro line.



Wolverine 4-inch Stringer Bead wheels have been re-engineered with 32 knots. This improved design delivers a 20 percent longer life, while maintaining aggressive cleaning power for weld cleaning applications. The wheels are available in both Carbon Steel and Stainless Steel options.



To learn more, visit www.weilercorp.com.



About Weiler Abrasives Group

As an industry leader and global manufacturer of surface conditioning solutions, Weiler Abrasives Group is dedicated to forging collaborative relationships with our customers in diverse markets — Welding Fabrication; Industrial Production; and Maintenance, Repair & Operations — to tackle their toughest cleaning, grinding, cutting, de-burring, and finishing challenges.



Weiler Corporation, One Weiler Dr., Cresco, Pa., 18326-0149 • 800-835-9999 • www.weilercorp.com.





More from Packaging Products & Equipment