Weight Indicator is NEMA 6/4X rated and washdown-safe.
Press Release Summary: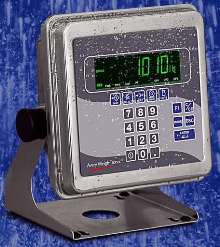 Able to meet demands of outdoor applications, E1010 is resistant to pressure washing and impervious to corrosive moisture, dust, and airborne particulates. Product features stainless steel enclosure, communication port, 22-key sealed keypad, and LED with seven 0.8 in. digits. Powered by 100-240 Vac, unit is equipped with internal rechargeable battery for up to 23 hr continuous operation. On-board memory permits storage of tares and numeric IDs.
---
Original Press Release:

Avery Weigh-Tronix Introduces First Washdown-Safe NEMA 6/4X Indicator


Fairmont, MN­August 16, 2004-­Avery Weigh-Tronix, Inc. introduces its new E1010 Indicator, the company's first, and the industry's first known, indicator to achieve a NEMA 6/4X rating from Underwriters Laboratory (UL®). Featuring the highest NEMA rating ever given to an indicator, the Model E1010 offers high resistance to pressure washing, as well as imperviousness to corrosive moisture, dust and airborne particulates, and the punishing demands of outdoor applications.

"We developed the E1010 Indicator to perform in the world's harshest process environments," said Don Halbert, Product Manager. "To our knowledge, no other indicator has been awarded the NEMA 6/4X rating, making the E1010 superior for food, pharmaceutical and manufacturing industries that perform frequent washdowns, as well as wet, dry or dusty environments."

One of the company's new Evolution Series of Indicators, the compact E1010 features unmatched stainless steel enclosure integrity and an enhanced 22-key sealed keypad. A new, light emitting display technology with seven large, 0.8-inch digits delivers bright, high visibility in dim, steamy or dusty indoor environments as well as outdoors. The 100-240v AC-powered E1010 Indicator is also equipped with an internal rechargeable battery for up to 23 hours of continuous operation in mobile applications.

The Model E1010's numeric keypad permits storage of multiple TAREs and numeric IDs in memory for easy retrieval. As many as ten known tare weights can be entered from the keypad, or container weights can be entered using the TARE key. Easy operation makes the E1010 ideal for all-purpose weighing applications such as bench, floor and tank weighing, while a number of advanced features deliver additional capabilities. These capabilities include: checkweighing with a multi-segment fan graph for at-a-glance target range verification; counting routines with piece number or average piece weight along with gross, net or tare weights; peak weight capture and display; and process control with three setpoints to interface with relays for automated mixing or blending applications.

An integrated communication port allows weight information to be transmitted to peripherals, printers or PCs. The E1010 also offers multiple print formats that may be recalled via the keypad, with pre-defined print layouts featuring weight details.

Avery Weigh-Tronix is a pioneer in the design and manufacture of innovative precision electronic weighing devices and control systems. For further information, contact: Avery Weigh-Tronix, Inc., 1000 Armstrong Drive, Fairmont, MN 56031. Phone: 507-238-8253. Fax: 507-238-8258. email: industrial@weigh-tronix.com www.wtxweb.com

More from Machinery & Machining Tools