Weigh Feeders feature platform type lever network design.
Press Release Summary: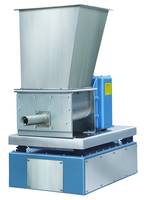 Available in 402, 404, 405, 406 and 408 models, Weigh Feeders come with dual (split) beam. Delivering feed rate of up to 20,000 pounds per hour, units offer metering accuracies ranging between ±0.25% to 1%. Units are equipped with Acrison's Ratiometric Digital Weight Resolver which produces unamplified, non-integrated and weight signal without any delay.
---
Original Press Release:
Acrison Models 402 and 404 Series, 405, 406 and 408 Weigh Feeders Provide Users with Superior Operational Performance, Unexcelled Reliability, Minimal Maintenance Requirements and Unrivaled Longevity
Acrison, Inc., a global leader in dry solids metering and handling technologies for over 50 years, offers a complete range of compact, low profile precision weigh feeders utilizing Acrison's technologically advanced, exceptionally durable dynamic weighing system, permanently calibrated and adjustment-free. High resolution weight sensing is accomplished by Acrison's Ratiometric Digital Weight Resolver that instantaneously produces an unamplified, non-integrated, weight signal, with no signal delay whatsoever, for use by one of Acrison's multiprocessor controllers for precise feed rate control.
The weighing system is an advanced, dual (split) beam, "platform" type lever network, robustly constructed for exceptionally long life and near zero maintenance requirements. The entire weighing system of the weigh feeder is guaranteed for 5 years, including the associated electronics. Cost-of-ownership is the lowest in the industry.
Each of these model weigh feeders are available with several different type metering mechanisms... the selection of which is determined by the physical handling characteristics of the product or products to be metered and/or the feed rate requirements. Feed rates range from less than a pound up to approximately 20,000 pounds per hour, with continuous metering accuracies ranging between +/- 0.25 to 1 percent or better (error) at two sigma, based on a given number of consecutive one-minute sample weighments.
For more information
Call 201-440-8300,
Fax 201-440-4939,
email informail@acrison.com,
Visit www.acrison.com
Contact:
Terry Shaw
Acrison, Inc.
201-440-8300
More from Fluid & Gas Flow Equipment