Wedge Mounts provide precision leveling for heavy loads.
Press Release Summary: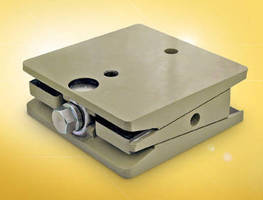 Offering load capacity of 12,364-15,736 lbf, Series V11Z90MHW includes 2 models for cleanroom use and 2 for general industrial applications. Two gentle inclines on wedge produce lifting force with minimal input of torque. During level adjustment, head of bolt does not move axially, optimizing safety. Featuring cast iron body and zinc-plated steel bolt, mounts are suited for large air compressors, rolling machines, transfer machines, gas turbines, and nuclear reactors.
---
Original Press Release:
New Precision Wedge Mounts From AAC Are Designed for Precision Leveling for Heavy Loads
New Hyde Park NY -- A new series of 4 precision wedge mounts from Advanced Antivibration Components - AAC are designed for precision leveling for heavy loads. Two mounts are designed for cleanroom use and two for general industrial applications. Two gentle inclines on the wedge produce a large lifting force with small input of torque. During the level adjustment, the head of the bolt does not move axially. This special design improves the operation and safety of using this product. These mounts are featured at the AAC eStore where you can order online, request a quote, download CAD models, check stock plus request catalogs by mail or via online download. Identified as the V11Z90MHW..., the mounts have a load capacity range of 5608 kgf (12364 lbf) to 7138 kgf (15736 lbf). The body is made of cast iron and the leveling adjustment bolt is made of zinc plated steel. Their applications include: large air compressors, rolling machines, transfer machines, gas turbines, nuclear reactors, and buildings and structures. AAC stocks a wide range of antivibration and shock isolation products which include: stud & nut type mounts, base plate fastened mounts, wheels, leveling & foot mounts, suspension mounts, spring, steel mesh & cable mounts, bumpers, shock absorbers & channel mounts, bushings & grommets, pads & tapes, and couplings. These products are stocked in different materials including: rubber, neoprene, urethane, sorbothane, stainless steel mesh and springs. Many are suitable for use in extreme environmental conditions. Of special interest is a complete selection of Silicone Gel floor mounts, pads, sheets, plus paste-type thermal gel. Detailed specifications are contained in Catalog V110, available free upon request from Advanced Antivibration Components - AAC, 2101 Jericho Turnpike, New Hyde Park, NY 11042-5416. Phone: 516-328-3662 Fax: 516-326-3365 Web: http://www.vibrationmounts.com/press/WedgeMounts.htm
More from Electrical Equipment & Systems