Wedge Material protects power generator stator coils.
Press Release Summary: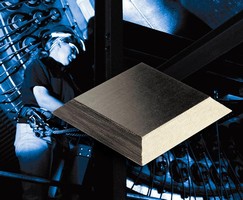 NP342LS low-shrink material for Class B generators functions at up to 130°C and features strengths of 23,000 psi flexural, 12,700 psi tensile, and 37,000 psi compressive. Wedge can withstand impact force during installation as well as centrifugally and magnetically induced stresses during operation. Designed with non-abrasive phenolic-cotton composite, material can be machined to tight tolerances and provides 1.7% absorption rate.
---
Original Press Release:

New NP342LS Low-Shrink Wedge Material For Power Generators



POSTVILLE, IA - Norplex-Micarta announces NP342LS low-shrink material for Class B generators. The NP342LS maintains dimensional stability and mechanical strength at temperatures as high as 130°C, ensuring a reliable fit in wedge applications and thereby effectively protecting the stator coils during operation. This phenolic-cotton composite is a non-abrasive material that eliminates the abrasion and abrasion-generated dust that fiberglass alternatives can cause. The material is also easily machined, even to tight tolerances, and provides excellent moisture resistance, with an absorption rate of 1.7%.

Typical properties for the NP342LS are a flexural strength of 23,000 psi; a tensile strength of 12,700 psi; and a compressive strength of 37,000 psi. These mechanical properties are critical if a wedge is to withstand the impact force during installation, as well as the forces generated during operation from centrifugally and magnetically induced stresses. The material also features excellent electrical insulation properties at high voltages.

About Norplex-Micarta
Norplex-Micarta is the leading manufacturer of high performance thermoset composites. Norplex-Micarta¡¦s vast product line serves power generation, military/aerospace, oil & gas, medical devices, electrical devices, electronics assembly, construction, heavy industry, and transportation markets throughout Europe, Asia/Pacific, and The Americas. Norplex-Micarta is located at 665 Lybrand Street, Postville, IA 52162; Tel: 563-864-7321; Fax: 563-864-4231; E-mail: info@norplex-micarta.com; Web: www.norplex-micarta.com.


More from Fluid & Gas Flow Equipment